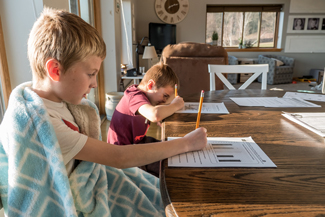 Well, we've been at this for a few weeks now. Maybe you started your "school at home" experiment (I won't call it homeschool because that is truly not what we are doing right now) with enthusiasm and color-coded schedules. Maybe you started slowly and anxiously and worked your way into a good routine. Maybe you're just slogging through, reinventing the wheel each day. Maybe, like me and my family, you're somewhere in between. It's all OK.
I wanted to write something acknowledging how hard this has been. How weird it is. How there have been tears, slammed doors, and stomped feet (and not just the kids!). But I suspect you've read it all before. Besides, my family's experience is not, cannot be, will never be, your family's experience. Maybe you are working. Maybe you aren't. Maybe you have one kid, maybe you have five. Maybe you have another adult helping you work through it. Maybe not. Hopefully, everyone you love is healthy. But maybe not.
[Read more…]

about My Family's Favorite Free At-Home Activities and Resources for Creative Learning.