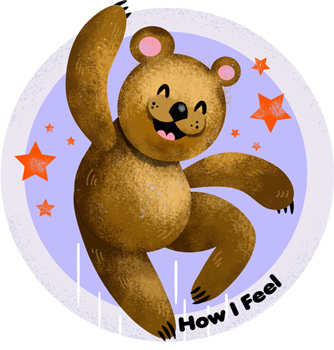 By completing three of these activities, children can earn the How I Feel badge from Let's Play School. Stop by your branch once the library reopens, so that your child can pick up their patch!
Talk to your child about things that make them happy, scared, sad, or angry. Talk about when you have those emotions, too, and what you do to cope with strong feelings.
Practice mindfulness with your child using an online resource like Hoopla or YouTube. Mindfulness and meditation can help children learn to identify and accept their emotions, decreasing anxiety and promoting happiness. Learn more.
Using Hoopla in Kids Mode, check out a non-fiction book about emotions.
Practice making faces! Can you make a sad face? A happy face? An angry face? Make a face and see if your child can guess what emotion you're showing – then switch! Make a game of it and keep score — who can guess the most correctly?
Draw pictures of what you think emotions would look like. Use colors that inspire you – is red an angry scribble? Is blue peaceful clouds? Is yellow a happy sun?
Check out and read a digital picture book with your child – visit our collection on Hoopla or cloud Library. Talk about how the characters feel in the story, and see if your child can remember a time they felt that way! Share a story about when you felt that way.
Visit London's National Portrait Gallery online and explore the faces in their collection. Can you recognize any emotions?
— Michelle K., Youth Services Librarian