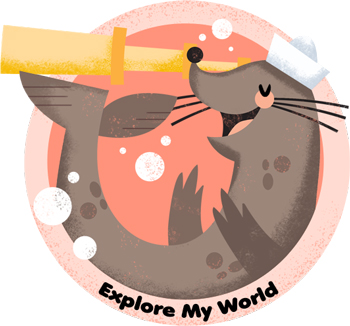 Children completing three of these activities can earn the Explore My World badge from Let's Play School. When the library reopens, stop by your branch so that your child can pick up their patch!
Go on a Color Hunt! Make a list of all the colors of the rainbow, then have your child find as many things of a certain color as they can. Help your child find different textures within these colors: a soft blue pillow or the bumpy skin of an orange, for example. See which color they find the most.
Go on a virtual walk through a museum. Try the Boston Children's Museum — it's brand new.
Have your child look outside and see what kinds of animals they can see or think about animals that might live in your neighborhood. Using Hoopla, find some books on that animal and learn more about them.
Do a sink or float challenge. Have your child choose several items from the house and guess if they will sink or float in water. Ask them if they can guess why.
Do shape building! Using familiar items from around your house, such as toilet paper and paper towel tubes, books, shoes, and string, have your child create the shapes they know.