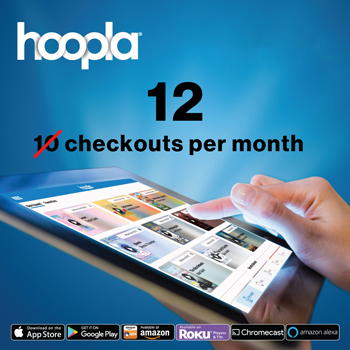 With our buildings closed, you are using our e-library and borrowing more e-content than ever before. Now you can borrow even more! We've temporarily increased your monthly Hoopla borrows from 10 to 12 items. Combine that with Hoopla Bonus Borrows that don't count toward your monthly limit, and you've got plenty of eBooks, eAudiobooks, eComics, streaming music, movies, and TV shows to keep you entertained during this "new normal" period.
This change is in effect until September 1, 2020, at which time Hoopla borrowing limits will revert to 10 items per month.
If you have experienced long hold times on OverDrive, check out the titles in cloudLibrary or Hoopla. Remember, Hoopla titles are available immediately with no hold or wait times.