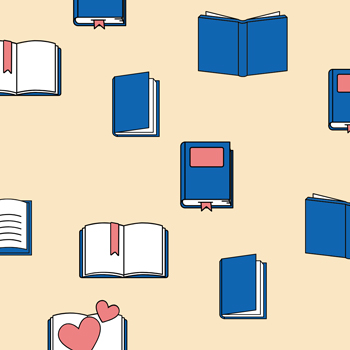 Virtual books clubs have grown in popularity during the COVID-19 pandemic. While book clubs have long been popular, during this difficult time, more and more people have turned to book clubs to share quotes from favorite reads, discuss important issues or even dish on their favorite beach reads.
If your book club has moved online or if you are looking to start a virtual book club, check out these eBook titles that include romance, literary fiction, historical fiction, mystery, and fantasy. Since all are available in Hoopla, each member of your book club can check the same book out at the same time, whether your book club numbers five members or twenty! Remember, with Hoopla, you never have to wait for a title as all titles are available immediately (no holds and no waiting).
Romance
The Golden Hour by Beatriz Williams: a dazzling epic of World War II in which a beautiful young "society reporter" is sent to the Bahamas, a haven of spies, traitors, and the infamous Duke and Duchess of Windsor (historical romance).
Ghost Moon by Heather Graham: Plunge back into the Bone Island trilogy, a thrilling series of haunted suspense from New York Times bestselling author Heather Graham (paranormal romance).
16 Lighthouse Road by Debbie Macomber: Dear Reader, You don't know me yet, but in a few hours that's going to change. You see, I'm inviting you to my home and my town of Cedar Cove because I want you to meet my family, friends and neighbors. Come and hear their stories – maybe even their secrets! Book one of Cedar Cove series (contemporary romance).
When Strawberries Bloom by Linda Byler: Lizzie's dream of teaching school has finally come true. She loves the brand-new school building, the sound of the children singing, and the independence she has in the classroom. Even the occasionally unruly boys can't ruin the excitement she feels each morning when she starts the school day. But at home things are in turmoil again. Based on true experience of author (Amish romance).
An Unlikely Duchess by Linda Balogh: A proper aristocrat takes a detour on the way to his wedding (Regency romance).
Suspense/Thriller/Mystery
The Sense of Death by Matty Dalrymple: A woman's quiet existence in Maine is shattered when a Philadelphia socialite goes missing; part one of the Ann Kinnear Suspense series.
Dark Tort by Diane Mott Davidson: Caterer Goldy Schulz's lucrative new gig, preparing breakfasts and conference room snacks for a local law firm, is time-consuming, but she's enjoying it . . . until the night she arrives to find Dusty, the firm's paralegal, dead. The deceased also happened to be Goldy's friend and neighbor, and now Dusty's grieving mother is begging Goldy to find out who murdered her daughter. Part of the Goldy Bear Culinary Mystery series set in Colorado; includes recipes.
The Ritual Bath by Faye Kellerman: An unspeakable crime occurs in a Jewish community; first book in the Detective Peter Decker/Rina Lazarus series.
Meow Mayhem by Lisa Lickel: Looking for a fresh start, Ivy and her cat, Memment, move to a new town and discovers there is something rotten in Apple Grove (cozy mystery).
Hardcastle's Obsession by Graham Ison: It's 1916 and a Zeppelin's bomb has missed its mark, and Detective Inspector Hardcastle is called to investigate (historical mystery).
Fantasy/Science Fiction/Adventure
The Medium by C.J. Archer: Spirit medium Emily Chambers has a problem. As if seeing dead people isn't a big enough social disadvantage, she also has to contend with an escaped demon and a handsome ghost with a secret past. Part one of the Emily Chambers Spirit Medium Trilogy.
Realty Check by Piers Anthony: A couple rents a house in the city and discovers why others have been scared off.
Beguilement by Lois McMaster Bujold: With The Sharing Knife series, Bujold creates a brand new world fraught with peril, and spins an extraordinary romance between a young farm girl and the brave sorcerer-soldier entrusted with the defense of the land against a plague of vicious malevolent beings; first part of a four-part series.
Wicked Nights by Gena Showalter: Leader of the most powerful army in the heavens, Zacharel has been deemed nearly too dangerous, too ruthless, and if he isn't careful, he'll lose his wings. But this warrior with a heart of ice will not be deterred from his missions at any cost, until a vulnerable human tempts him.
Dragon Teeth by Michael Crichton: Discovered after his death and published in 2017, this novel is a thrilling adventure set in the Wild West during the golden age of fossil hunting.
Literary Fiction
Courting Mr. Lincoln by Louis Bayard: The page-turning and surprising story of a young Abraham Lincoln and the two people who loved him best — Mary Todd and his best friend Joshua Speed, both of whom share ambition and an obsession with politics.
Deep River by Karl Marlantes: Using the family epic as a story telling medium, an expansive narrative that depicts human suffering, courage and reinvention and explores the place of the individual and the immigrant in America.
If the Creek Don't Rise by Leah Weiss: Sadie Blue has been a wife for fifteen days-long enough know she made a mistake in hitching herself to Roy Tupkin, even with a baby.
The Floating World by C. Morgan Babst: The Boisdores, a Creole family, have roots that stretch back to the founding of New Orleans, and now they must reassemble their lives following Hurricane Katrina.
The Long Flight Home by Alan Hlad: Inspired by true but little known events of WWII. A testament to courage during dark times.
Speaking of Summer by Kalisha Buckhanon: A literary thriller about a woman's desperate search for her missing sister, set against the neighborhood of Harlem.
— Regina S., Collection Management Specialist