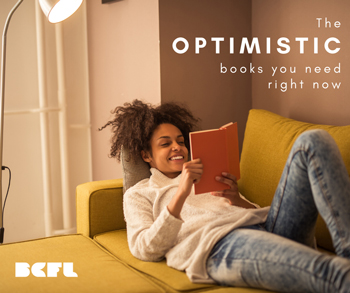 How's you're reading life going? Let's be honest – there may have been a time when the idea of staying at home with unlimited time to read sounded like a dream come true. But that dream never looked or felt like our current reality. So while we are at home, our reading life may have met some stumbling blocks: we're homeschooling our kids, we're cleaning our houses, we're watching too much news, and we're worrying about loved ones. We may be having trouble concentrating on long books, we don't want to read anything depressing, and on top of that the library's closed, and we can't find anything we want to read in the e-library.
While you're missing the library, the library is missing you too! We can't wait to see you in person again soon. Meanwhile, here's a list of authors who are upbeat and quick to read and will leave you feeling optimistic when you turn the final page. Importantly, they are available now in our e-library (as I'm writing this). Many of them are available on Hoopla, where books are always available!
I hope this helps you find something happy to read – what are you reading right now that's making you happy? Let us know! Is there a different kind of book you're looking for? Let us know and we'll write a new list!
— Pat H., Branch Manager, Yardley-Makefield Branch