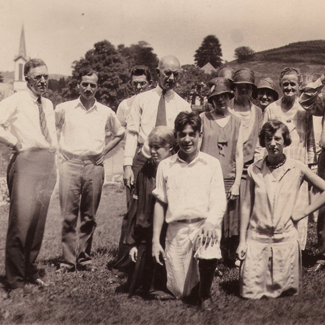 Whether you are curious about genealogy research, have a family history puzzle to solve, or hit road blocks in your own research, BCFL offers a plethora of e-resources for you to utilize while at home.
Background
In addition to my role as a BCFL branch staff member, I'm pursuing genealogical certification and recently published my debut novel of which genealogy was key. I've been researching family history for roughly 15 years, and have discovered details that both shocked and inspired me. From my widowed second great-grandmother (an Irish immigrant/factory worker) providing for her remaining three children at the turn of the 20th century, to finding out about Scottish Highland ancestors I never knew I had (this OUTLANDER fan was pleased to find M(a)cKenzies and Frasers in my direct lineage), I often wonder about what they endured and how I would respond if I encountered the same struggles. They are more than names and faces, and in tracing their stories I build upon my own.
BCFL E-Resources
The following e-resources may prove invaluable tools regardless of where you are on your family history path! Let's start with resources available to you as a BCFL cardholder. Select our e-Library – Research and Online Learning section to access the following tools.
[Read more…]

about Explore Your Family History at Home