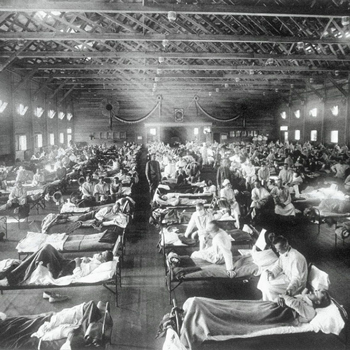 What to read during a pandemic? Some readers turn to books that are optimistic. Others turn to books about plagues, pandemics, and disasters to try to make sense of what they are experiencing — if you're in this category, check out these fiction and nonfiction titles, all available as eContent in cloudLibrary.
Pandemics in Nonfiction
Deadliest Enemy by Michael T. Osterholm and Mark Olshaker: We are facing an overwhelming army of deadly, invisible enemies. We need a plan — before it's too late. (eBook and eAudiobook)
And the Band Played On by Randy Shilts: Shilts' expose revealed why AIDS was allowed to spread unchecked during the early 80's. A modern classic, it changed and framed how AIDS was discussed in the following years and remains one of the essential books of our time. (eBook)
Get Well Soon by Jennifer Wright: A witty, irreverent tour of history's worst plagues—from the Antonine Plague, to leprosy, to polio—and a celebration of the heroes who fought them. (eBook and eAudiobook)
Influenza by Jeremy Brown: Highlights that influenza is still a real and present threat and demonstrates the power and limitations of modern medicine. (eBook and eAudiobook)
Superbugs by Matt McCarthy: An informative book that will change your perspective on medicine, microbes and the future.
See all titles in this category.
Pandemics in Fiction
Cold Storage by David Koepp: When Pentagon bioterror operative Roberto Diaz was sent to investigate a suspected biochemical attack, he found something far worse: a highly mutative organism capable of extinction-level destruction. Now, after decades of festering in a forgotten sub-basement, the specimen has found its way out and only Diaz knows how to stop it. (eBook and eAudiobook)
A Journal of the Plague Year by Daniel Defoe: A gripping fictionalized account of the plague that racked seventeenth-century London. (eBook and eAudiobook)
Fever 1793 by Laurie Halse Anderson: It's late summer 1793, and the streets of Philadelphia are abuzz with mosquitoes and rumors of fever. Down near the docks, many have taken ill, and the fatalities are mounting. (eBook and eAudiobook)
The Andromeda Strain by Michael Crichton: A captivating thriller about a deadly extraterrestrial microorganism, which threatens to annihilate human life. (eBook)
The Companions by Katie M. Flynn: A debut novel set in an unsettling near future. After the wake of a highly contagious virus, the dead can be uploaded to machines and kept in service by the living. Wealthy participants choose to upload their consciousness before dying, so they can stay in the custody of their families. The less fortunate are rented out to strangers upon their death. (eBook and eAudiobook)