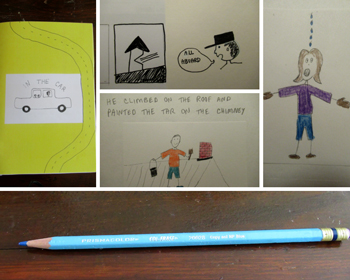 Do you want to turn your family stories into comics or graphic novels?
"I can't draw," you say. Neither can I, but I make comics and graphic novels anyway. Children don't care about skill, they just love stories about you, their parents, or other family members.
I use regular pens, pencils and paper, a composition book, and a photo copier. My most exotic tool is a Non-Photo Blue Pencil. You draw with the blue pencil, then ink over the pencil marks. The blue pencil marks do not show when you photocopy, so you can make mistakes and fix them easily before inking and copying the final product.
[Read more…]

about Write Your Own Graphic Novel