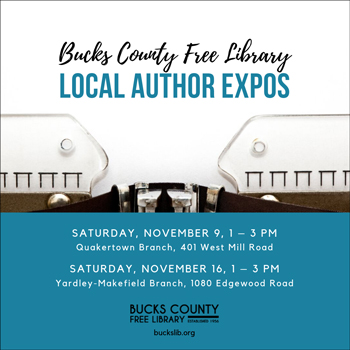 Join us for our annual Author Expos taking place in two locations this November: Quakertown Branch on Saturday, November 9, and Yardley-Makefield Branch on Saturday, November 16. Both Author Expos will run from 1 to 3 p.m.
Discover published authors from your own local areas. Authors will display their books for sale and talk to attendees about their experiences as an author. A wide range of books for all ages will be highlighted. Come and join us in this intellectual venture and support our local writers.
Authors appearing include those listed below. This list will be updated as information becomes available.
Authors Appearing at the Quakertown Branch (November 9)
John Boyle
Rosanne Hansel
Richard Sakulich
Authors Appearing at the Yardley-Makefield Branch (November 16)
Nancy Adams
Nancy Beans
Gail Marshall
Pamela Morris
Janet Poland
Lois Rooney
Sourav Sahay