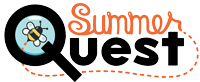 Summer Quest, BCFL's favorite time of the year, will return on Saturday, June 20, bringing with it six weeks of fun.
This year, because of COVID-19, Summer Quest will be different. We'll still be tracking reading minutes, earning limited-edition badges, and enjoying live performances together. But all of this fun will take place online so that we can stay safe.
Visit our Summer Quest page for all the details you need to know about: our Beanstack Reading Challenge; limited-edition badges; schedule of performers, and Quick Bite Videos.
We can't wait for you to play, learn, create, and explore with the library for a summer full of fun!