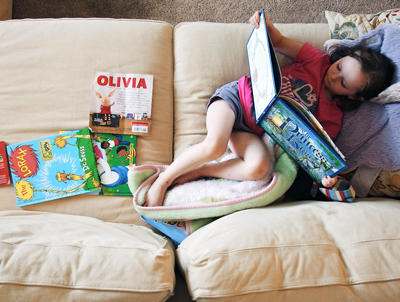 Here are our picks for the best children's and young adult books of 2016. We published our favorite adult fiction and non-fiction books last week.
You can find more book recommendations in Books for the Kids on Your Holiday Gift List. 
Did we include your favorite books? Join the conversation on Facebook and tell us which were your favorite books of 2016.
Children's
Before Morning by Joyce Sidman and illustrated by Beth Krommes: A child wishes for snow so she and her airline pilot mother can have a day together. With phrases like "the sky turns to feathers," and the wonderful art of Beth Krommes, this book is a delight. — recommended by Karen in Doylestown
Foxheart by Claire Legrand — recommended by Neil in Perkasie
Good Night, Bat! Good Morning, Squirrel! by Paul Meisel: It is simply charming. I love the way it is illustrated and the lesson it teaches on how to be a good neighbor. — recommended by Mary Beth in Morrisville
If You Give a Mouse a Brownie by Laura Numeroff: Numeroff has brought us another fun-filled exciting picture book adventure starring the mouse that strategically begins and ends with a delectable brownie. — recommended by Kathleen in Levittown
Nanette's Baguette by Mo Willems: This has to be my favorite children's book published this year. It actually made me laugh out loud reading it, and my children laughed out loud when I read it to them. The three of us can totally relate to Nanette and her mom. — recommended by Jessica R. in Langhorne
A Poem for Peter by Andrea Davis Pinkney: This book-length poem is an autobiography of Ezra Jack Keats. It's a wonderful look at "The Snowy Day" that appeals to children and adults. — recommended by Mary Catherine in Doylestown
When Spring Comes by Kevin Henkes: Henkes introduces the magic of waiting for the change of season from winter to spring in this beautifully illustrated picture book. Through vivid colors, illustrator Laura Dronzek helps us envision the spring season with a fresh and new perspective. — recommended by Kathleen in Levittown
Young Adult
The Diabolic by S. J. Kincaid: Sci-fi and dystopia meet in this story of friendship, humanity, and politics. — recommended by Holly in Doylestown
The Initiation: Lock and Key #1 by Ridley Pearson: This book reimagines Sherlock Holmes and James Moriarty as boarding school roommates in modern times. The pacing is quick, and the mystery is interesting. I enjoyed getting a fresh look at these classic characters, and Pearson left plenty to explore in the assumed sequels. — recommended by Andrew in Bensalem
Scarlett Epstein Hates It Here by Anna Breslaw: I liked this book because it is witty, but it also treats its teen protagonist's struggles very seriously. — recommended by Mary Catherine in Doylestown
Truthwitch by Susan Dennard: Excellent world building and characterization make you feel as though you are right in the story. The two female main female characters are fiercely loyal to each other and not about to sit by and wait to be rescued! — recommended by Holly in Doylestown
The Unexpected Everything by Morgan Matson: I enjoy all of Matson's books, and this one was no exception. Her books always feature real characters who you feel you really get to know over the course of story. And you can't go wrong with a bunch of dogs (who all have their own personalities, too), ice cream, scavenger hunts, and long fun-filled summer days and nights. — recommended by Holly in Doylestown