Unleash your creativity with these expert-led courses on the creative process, songwriting, photography, drawing, and more! Access these Lynda.com (LinkedIn Learning) courses for free by using your library card. Get started in our e-Library.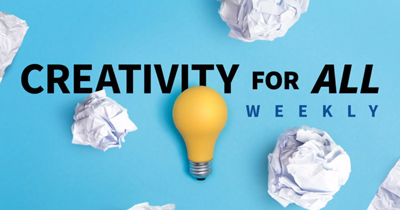 All of us—from accountants to event planners—regularly perform creative acts. Our brains already have the built-in machinery to be wildly creative—some of us just need a bit of clarity on the process. This lively course provides you with precisely that. Get tips that can help you nurture your spontaneous impulses, reignite dormant creative powers, and leverage your innate creativity in all areas of your life.
Introduction of Songwriting

Join Cliff Goldmacher in this course for an introduction to the major aspects of songwriting. He starts with breaking down what it means to be a songwriter and the skills you need to succeed and dives into the business side of music.
Photographer Joseph Linaschke helps you understand what's going on inside your camera, explaining photography fundamentals like what aperture is and how shutter speed works. Learn basics such as how to hold the camera, what various modes mean and when to use them, and even how and when to use the camera's flash. There's also creative instruction to guide you toward becoming a better photographer.
Photoshop 2020 Essential Training: Design
Adobe Photoshop is the industry standard for image editing and manipulation and used by a full spectrum of design professionals. This course was created specifically to help designers master the most commonly used tools and techniques with the goal of removing technical barriers in order to start creating as soon as possible.
Lynda offers all levels of Photoshop classes and videos from essential training to new features.
Drawing and Painting in Photoshop
Transition your analog skills to digital canvas with the tips and techniques offered in this class. Comic book illustrator and video game artist Daniel Lieske shows how to use digital brushes, selections, masks, color pickers, texture tools, and additional Photoshop features. After demonstrating how to use Photoshop, he takes you through the creation and completion of three full illustration projects.
Hear 32 inspiring stories of people who used existing skills to make money apart from their regular job including selling products such as tote bags to providing services like wedding flowers to hosting an event.
These are just few of the many creative courses at Lynda.com. Log into Lynda by selecting it from our e-library and search the index of courses to find courses on drawing, animation, filmmaking, music, visual effects and more!
— Holly A., Collection Management Director