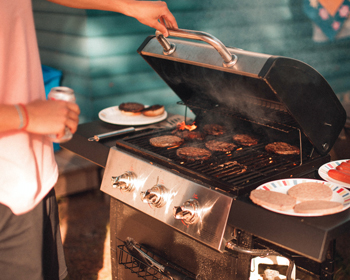 Now that summer's here, you may be thinking about lounging by the pool and hosting a barbecue. Let us help!
First things first: are you looking for a new grill? No, you can't check one out from the library. (Yet.) But did you know your Bucks County library card gives you access to Consumer Reports online? Check out their ranking of the Best Gas Grills of the Year before you go shopping! To "unlock" Consumer Reports' Gas Grill Ratings, make sure to access Consumer Reports through our e-Library.
Once your grill is ready to go, don't forget to check out our cookbook collection to get inspiration for your next cookout. Maybe one of these titles will spark your interest:
Cool Smoke: The Art of Great Barbecue by Tuffy Stone — Champion pitmaster Stone offers a range of stellar recipes for poultry, pork, beef and more with original flavors and tutorials for cooking techniques. He even finishes up with some dessert recipes to pair with your savory main course!
How to Grill Everything: Simple Recipes for Great Flame-Cooked Food by Mark Bittman — Bittman, author of the beloved How to Cook Everything series, delivers with over 1000 recipes as well as an overview of grilling techniques designed to usher a beginner into the world of outdoor cooking.
Korean BBQ: Master Your Grill in Seven Sauces by Bill Kim — Chef and restauranteur Kim blends Korean and Midwestern American cuisine to create a culinary arsenal with broad appeal. Packed with flavor, these recipes rely on simple prep that will have you grilling in no time. Make sure to check out Kim's tips for stocking your pantry and making the most of leftovers!
Thank You for Smoking: Fun and Fearless Recipes Cooked with a Whiff of Wood Fire on Your Grill or Smoker by Paula Disbrowe — Disbrowe teaches home cooks how to use smoking techniques to season 100 everyday meals. Use your gas or charcoal grill to add a hint of smokiness to meats, fish, or veggies — and don't miss the smoked desserts and cocktails.
VBQ: The Ultimate Vegan Barbecue Cookbook by Nadine Horn and Jörg Mayer — If you love the barbecue atmosphere, but meat just isn't your thing, you're not alone! VBQ offers over 80 recipes ranging from vegan twists on classic barbecue meals, including pulled mushroom sandwiches, to global flavors, like eggplant gyros, plus an introduction to grilling tools and techniques.
— Recommended by Jennifer M., Collection Management Director