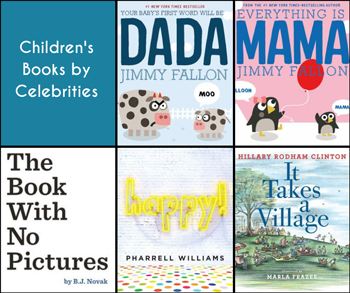 Psst… have you heard the latest Hollywood gossip? No?! Neither have we because we are too busy checking out our five favorite children's books written by celebs instead.
Oh, celebrities, they're just like us. They go through airport security, and walk their dogs, and listen to podcasts. SAME! But whether they eat bread or take the bus, these celebs are still setting themselves apart by adding "Children's Book Author" to their resumes.
Move over Kardashians, we're talking lifestyles of the writing rich and famous.
Your Baby's First Word Will Be Dada by Jimmy Fallon – If you expect The Tonight Show host's children's books to be funny, you will not be disappointed. Follow along as farm animal dads try to get their babies to say "Dada!"
BONUS: The dads' expressions are relatable and add humor to the illustrations, while the animal sounds make for a great (and short) back and forth bedtime read.
Everything is Mama by Jimmy Fallon – Similar to Your Baby's First Word Will Be Dada, animal moms are trying to teach their babies new vocabulary, but the response is always the same.
BONUS: With identifiable objects and the repeated "Mama!" throughout the story, this book is also great for shared reading. (And since it is short, bedtime, too.)
The Book With No Pictures by BJ Novak – One of my all-time favorite children's books (and a go-to read aloud for early elementary age children), BJ Novak's The Book With No Pictures is guaranteed to get a giggle.
BONUS: You are going to have to use a robot voice, sing, and say the word "butt" during this read aloud, but trust me, it will give you mad street cred.
Happy! By Pharrell Williams – We dare you not to start singing as you read the children's book adaptation of the catchy hit from 2013. With mixed media illustrations that pop off the page, the book brings the lyrics to vibrant life.
BONUS: Author and singer Pharrell encourages readers to spread happiness and make others smile in a letter to the readers at the end. Yes, please.
It Takes a Village by Hillary Rodham Clinton – Based on the old African proverb "It takes a village to raise a child," this children's book walks us through building a village and encouraging us to help and believe in each other, while finding our own place in the world, no matter what our age.
BONUS: Illustrator Marla Frazee was awarded a Caldecott Honor for All the World and A Couple of Boys Have the Best Week Ever. While not celeb-status, the beauty of It Takes a Village may have you wanting to check out these titles as well!
These are Hollywood hits in our (library-loaned) book.
— Books recommended by Jessica R., Youth Services Librarian, Langhorne Branch