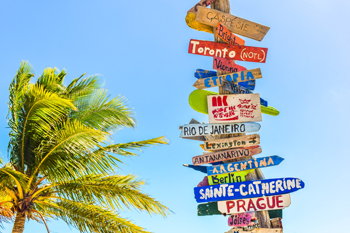 If you're planning a summer vacation, don't forget to stop by your local library – we can help!
You can find travel guides in the nonfiction section of your local library between the call numbers 914-919, or by doing a subject search in the catalog for "guidebooks." You'll find guides to popular regions and cities in the U.S. and around the world! Need some suggestions? Check out these recent arrivals:
If you're looking for outdoor activities closer to home, here are a few ideas to get you started:
Quiet Water Mid-Atlantic: AMC's canoe and kayak guide to the best ponds, lakes, and easy rivers from Pennsylvania to Virginia
Find more in your local library's nonfiction section between the call numbers 796-799.
Need to renew or apply for a passport? Don't forget, the Bensalem Library is also a passport acceptance facility! Be sure to check out buckslib.org/passport-service for more information, and remember that appointments are required.
And if you're worried about running out of reading material while you're away, don't forget to check out our eBook collection in cloudLibrary!
— Books recommended by Jennifer M., Collection Management Coordinator