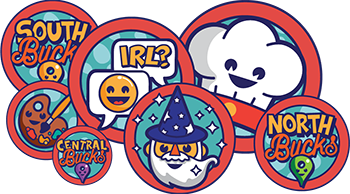 Everyday Reading is our online, year-round reading program for kids, ages 5-14. Kids earn digital badges, and real cloth patches, by completing fun reading activities.
While they're earning badges, they're learning to read for enjoyment and establishing a habit of lifelong reading!
The program has more than 50 badges including Reading Rebel, Epic Wizard, Zoo Keeper, Interstellar Seeker, and The Mad Chef. By completing specific activities – learning about banned books, reading books about space, preparing a meal – kids unlock digital badges. Then they can visit the closest library branch and pick up a cloth patch.
Kids can start Everyday Reading by working on whatever badges interest them most – and they can take as much time as they want to earn a badge. There's no end date, and while they don't have to earn all the badges, there are a few hidden badges that can only be unlocked by completing other badges.
Learn more about Everyday Reading and register for the program here.
Related: Reading superstar earns 13 Everyday Reading badges.