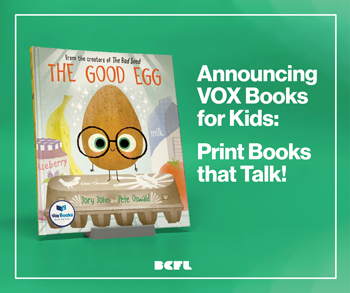 BCFL's new read-alongs from VOX Books are hardcover print editions of your favorite kids' books. They have an audio recording built right into the book — no CD player or digital device required! Just plug in a pair of headphones or use the built-in speaker to hear the narration, and you're ready to go! VOX books can be charged with any standard micro-USB charger.
There are a wide variety of choices, with over 100 different VOX titles that include both fiction and non-fiction picture books. Check out timeless favorites, such as Goodnight Moon, Cloudy With a Chance of Meatballs or Click, Clack, Moo: Cows That Type, as well as newer popular titles such as I Am Enough, The Legend of Rock, Paper, Scissors, and A Hundred Billion, Trillion Stars.
Find them at your local branch, or search the catalog under "Readalong children's books" to browse the full collection!
–Kathleen L., Collection Management Librarian and Jennifer M., Collection Management Coordinator