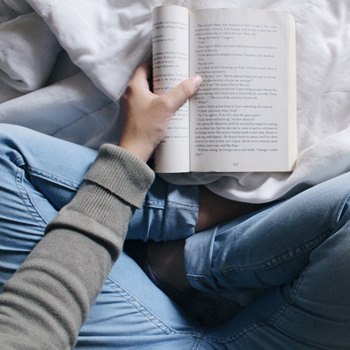 The shortest month has an extra day this leap year, which gives you an extra day of reading time! So slip into your favorite reading spot and open one of these great titles.
Fiction
Africaville by Jeffrey Colvin
Although Africaville is a work of fiction, it has its roots in a real neighborhood in Halifax, Nova Scotia, founded in the early 1800s, and lasting through the 1960s. Settled by former slaves from the original thirteen colonies and black loyalists freed by Great Britain after the Revolutionary War and the War of 1812, the community became an important symbol for Black Canadians.
Colvin mines this community for his debut novel. It follows four generations of a widely-scattered family over most of the 20th century, from the Great Depression to the social protests of the sixties to the financial downturn of the eighties. It's a family saga, dealing with death, neglect, mixed race marriages and children, and losses–both intentional and situational–that loom from one generation to the next.
Such a Fun Age by Kiley Reid
Temple grad Emira is at loose ends. She graduated a year ago and has watched her friends go to good jobs, get promotions, and get married, but she is about to lose her parents' health insurance and has no idea where she wants to go with her life. Enter Alix, the mother of two small children, who has moved from New York to Philadelphia where her husband has accepted a job as a newscaster. She is not happy in Philly, she has a book to write, and she needs a babysitter to free up some of her time.
Emira turns out to be the answer to her prayers, the perfect babysitter/nanny three days a week. Emira is surprised to find that she loves kids and loves her job. When Alix has a crisis late one Saturday night, Emira comes to her rescue and agrees to entertain the two-year old at an upscale grocery store. The store's security guard, seeing a young black woman out late with a white child, accuses Emira of kidnapping. A heated exchange ensues—all recorded on video—and Emira is allowed to leave only after the child's father arrives to explain the situation. With this debut novel, Reid provides a fresh look at how racial anxieties can drive both healthy and heated conversations about race, while exposing toxic relationships.
Lady Clementine by Marie Benedict
They say that behind every successful man is a woman. In 1909, Clementine Churchill steps off a train with her new husband, Winston. An angry woman in the crowd rushes forward and pushes Winston toward the tracks and an oncoming train. Clementine grabs his suit jacket and pulls him to safety. It will not be the last time Clementine saves her husband.
With Lady Clementine, Benedict continues her tradition of delving into the lives of women in history about whom most of us know little. Although Benedict is writing fiction, it is based on fact and as with Carnegie's Maid and The Other Einstein, her research into the period about which she is writing is extensive. This book is another thoughtful, illuminating look behind the scenes of society and the world during the period stretching from the beginning of the 20th century through WWII. Benedict reveals Clementine's personal secrets, her scandalous childhood, her unexpected role as a social outsider, her maternal insecurities, and her daily struggles to smooth her husband's political blunders and keep up with his relentless demands for attention.
Long Bright River by Liz Moore
A book about the opioid crisis, set in Philadelphia by a Philadelphia author, Long Bright River is part literary thriller, part family saga, and part police procedural.
Set in Kensington, it's is the story of two sisters who chose different paths in life, each on a different side of the law. Once a neighborhood of rowhouses that sheltered families and factories that produced varied goods, Kensington has deteriorated in a world gone wrong. Navigating this part of the city is Mickey Fitzpatrick, a thirty-something single parent and patrol officer. Mickey's younger sister, Kacey, walks the streets of Kensington for different reasons. She's an addict who supports her habit by turning tricks. Raised by their grandmother after their mother's death from drugs, Mickey and Kacey were very close growing up, but are estranged as adults.
Patrolling the streets of Kensington allows Mickey to keep tabs on Kacey. When a flurry of murders of women begins, and Kacey disappears, Mickey sets herself to finding the killer and Kacey, before her sister becomes a victim. Although the opioid crisis plays a part in the story, the search for Kacey is really at the heart of this novel. In her zeal to track down the killer and find her sister, Mickey reaches out to an old partner but ultimately goes it alone. She breaches protocol and makes a series of impulsive decisions that get her in trouble. These decisions imperil all she hold dears and drag her back to a past riddled with unanswered questions.
Dear Edward by Ann Napolitano
On May 12, 2010 a plane crashed in Libya, killing 103 people of the 104 people on board. The sole survivor was a 10-year-old Dutch boy. In an interview on NPR the author cited this news as the basis for her novel. She admitted to being a nervous flyer and said that this story had intrigued her for years, wondering whatever happened to that boy.
Edward is 12 and traveling with his parents and sister. They are relocating from the East Coast to Los Angeles. Flight 2977 never reaches its destination, and 191 people out of 192 on board perish. Edward is the sole survivor.
Dear Edward chronicles the aftermath of the crash for Edward, from his early days in the hospital, the never-ending media coverage (he is dubbed the miracle child), going to live with his childless aunt and uncle, and his appointments with physio and psychotherapists. When you've lost everything, how do you find the strength to put one foot in front of the other? How to you learn to feel safe again? He continues to feel that part of himself has been left in the sky, forever. Shay, a girl living next door to his aunt and uncle becomes his lifeline.
Interspersed with Edward's journey are chapters that are set on the plane itself, giving us a backstory for some of the other passengers. We learn about their hopes and plans, yet every one of them is minutes from oblivion.
A Beginning at the End by Mike Chen
Chen's newest novel is rooted in deep, realistic human emotion. It's a world not ended but paused. It's been six years since a pandemic wiped out 70% of America's population, and people are attempting to rebuild their lives and figure out how to govern despite differing factions of people banding together with different ideas.
Chen follows five people whose lives have become intertwined, a family of sorts, trying to move forward. Among them there's well-meaning father, Rob, and his daughter, Summer. Rob has not told Summer that her mother is dead, but that she is in treatment. There's former pop star, Moria, who is trying to stay under the radar and elude her controlling father, and Krista, a former wedding planner, who has faked her own death to escape her family. Rob, Krista, and Moira uncover one another's secrets as they struggle with the consequences of their past decisions and desperately trying to move forward. And then, rumors of another outbreak threaten everything they've built.
Nonfiction
One Day: the Extraordinary Story of an Ordinary 24 Hours in America by Gene Weingarten
Quick! What were you doing on Sunday, December 28, 1986? On New Year's Day 2013, at a restaurant in Washington D.C., Weingarten, a Washington Post columnist and two-time Pulitzer Prize winner, outsourced the fate of his next book to three strangers. Using scraps of paper and a hat, he had these strangers pick a month, a date, and a year. The purpose was to find one 'ordinary day' in America and delve into what was extraordinary about that day and the people living it. He wanted to test one of his primary tenets as a journalist: "If you have the patience to find it and the skill to tell it, there's a story behind everyone and everything." The day that emerged from the random drawings was December 28, 1986, a Sunday.
Weingarten says that One Day is the "culmination of too many years of work." The project extended four years beyond its deadline as Weingarten re-reported stories, chased leads and dead ends, mined numerous databases and archives, and conducted over 500 interviews. Although he was 36 in 1986, he says, "I was going through my life and I didn't realize that on that particular day, which didn't mean much to me at the time, lives were changed, altered, destroyed, made better, love was happening, and hate was happening."
Most of stories told in the book never made it into the news; they were private dramas in the lives of private people. Weingarten says, "Time and time again, I expected each of these stories to be a different kind of story, and it wound up being so much better because it was real. It's what really happened."
The Impossible First: from Fire to Ice-Crossing Antarctica Alone by Colin O'Brady
Several months ago I wrote about a book that profiled a young woman who, on a whim, entered a horse race in Mongolia and ended up bring the youngest person and only woman ever to win the race (Rough Magic: Riding the World's Loneliest Horse Race by Lara Prior-Palmer). Here is another adventure story of a lone person challenging himself and striving to do the impossible.
Colin O'Brady was trying to become the first to cross Antarctica solo and unsupported or unaided. Solo means that he walked or skied alone, pulling his own weight without any assistance. Unsupported and unaided means two things: he had to carry everything he needed with him; there were no additional food or fuel drops along the way, and he could not use kites to harness the ferocious winds of Antarctica, which would have enabled him to cross in far fewer days. There have been 16 successful crosses of Antarctica, but all have either been supported by food and fuel drops or the use of kites. O'Brady crossed the continent, 900 miles, alone, towing a 375-pound sled, in 54 subzero days. To add further drama to his story, he found himself in a head-to-head battle to cross Antarctica with an Englishman, Louis Rudd, also striving to be the first.
That O'Brady did it at all is remarkable. That he did it after a horrific accident ten years earlier after which there was doubt that he would ever walk normally again is truly remarkable. To add to his accomplishments, between the accident and his crossing of Antarctica, he set three mountaineering world records. While O'Brady sometimes seems to be a robot of control and discipline, his wife, Jenna, is a humanizing influence and it is good to see them working together through difficult times.
Failure to Launch by Mark McConville
All parents want the same things for their children; they want them to grow up to be happy, well-adjusted adults with successful careers and fulfilling lives. But often the transition from teen to adult doesn't go well. Currently 1 out of 4 people ages 25 to 34 neither work nor go to school. They're home in their parents' spare room or on the couch, unable to hold a job or maintain a relationship or to thrive in an educational environment. Clinical psychologist McConville, a senior faculty member at the Gestalt Institute of Cleveland, says that the usual trajectory of teens–graduating high school, going to college or getting a steady job and launching into the world standing on their own–is not working for many young adults and their parents.
McConville cites three reasons for the struggles that some young adults have: they don't know how to assume responsibility for themselves and their actions, they lack supportive relationships, and they can't find a sense of hope and purpose regarding their future. McConville details what parents can and cannot do to help their children. He offers concrete ways to get past parental guilt, set boundaries, motivate, and communicate. He reminds parents that their twentysomethings need support, not coddling. He says that staying connected is difficult, but essential and worth the effort. McConville also reminds parents and children that when situations become overwhelming, there is professional help available.
Father of Lions: One Man's Remarkable Quest to Save the Mosul Zoo by Louise Callaghan
Mosul, Iraq's second largest city after Baghdad, lies on the banks of the Tigris River and signs of civilization in the area date back as far as 8,000 years. From the 8th century onward, Mosul was considered a key cultural and economic hub.
Louise Callaghan, an award-winning Middle East correspondent for the London Sunday Times, chronicles a story of human decency in the midst of barbarism. It is the story of the zookeeper Abu Laith, father of lions, a man with an interesting past, and a lifelong animal lover. It is the story of how the zoo and Abu and his family and neighbors survived two years of ISIS occupation, involving starvation, book burning, oppression against women, and being bombed by the liberating forces. This is a story filled with intriguing characters who are sometimes funny, sometimes tragic, but always human.
Abu is a self-appointed zookeeper who has gained his knowledge through watching the National Geographic Channel. When the fighting intensifies and the animals in the zoo begin to suffer, Abu, with the assistance of a young, shiftless man named Marwan, takes it upon himself to save what animals he can. While he does his best to keep the animals safe and healthy, he cannot always succeed against all the violence. When Abu is asked why he didn't kill the zoo animals for meat for his family, he responded, "You don't eat animals who have earned your respect. We all went hungry to keep them alive. That's what respect is." Then, just when things seem totally hopeless, an international animal rescue organization brings assistance and some relief.
— Regina S., Collection Management Specialist