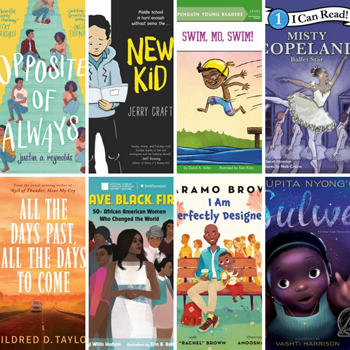 Here are some of our favorite books for Black History Month for younger readers — from infants through young adults. These books make great reads all year long and include award winners (Newbery Medal, Caldecott, and Coretta Scott King awards), picture books, easy readers, and fantasies.
Picture Books
I Am Perfectly Designed by Karamo Brown: A father and son share a day in the city and a conversation about what they love about each other.
M Is for Melanin: A Celebration of the Black Child by Tiffany Rose: An alphabet book empowers young African Americans to love themselves and their culture.
Nighttime Symphony by Timbaland: As a little boy gets ready for bed, the sounds of a wild storm echo around him, lulling him to sleep. From the crash of thunder to the pitter-patter of raindrops to the beat of passing cars, the music of the city creates a cozy bedtime soundtrack.
Parker Looks Up: An Extraordinary Moment by Parker Curry: When Parker visits the museum with her mom and friend she is captivated by the portrait of First Lady Michelle Obama, a picture that inspires self-assurance and hope within herself.
Sulwe by Lupita Nyong'o: When five-year-old Sulwe's classmates make fun of her dark skin, she tries lightening herself to no avail, but her encounter with a shooting star helps her understand there is beauty in every shade. (2020 Coretta Scott King Illustrator Honor)
The Undefeated by Kwame Alexander: The Newbery Award-winning author of The Crossover pens an ode to black American triumph and tribulation, with art from a Caldecott winner. (2020 Caldecott Medal, Coretta Scott King Illustrator Award, and Newbery Honor)
Easy Readers
Frederick Douglass: Voice for Justice, Voice for Freedom by Frank Murphy: A biography of Frederick Douglass covering his origins as slave and journey to becoming an abolitionist leader.
Harriet Tubman by Barbara Kramer: The story of the life of Harriet Tubman, highlighting her brave actions on the Underground Railroad that helped lead more than seven hundred slaves to freedom.
Michelle Obama: First Lady and Superhero by Sarah Howden: Introduces the life and accomplishments of the first African American first lady.
Misty Copeland: Ballet Star by Sarah Howden: Presents the life of the African-American dancer, describing her childhood, her ballet training, and her work with the American Ballet Theatre.
Swim, Mo, Swim! by David A. Adler: Mo is going swimming in the fifth title of the perenially popular, Geisel Award-winning series.
Juvenile
Brave. Black. First: 50+ African American Women Who Changed the World by Cheryl Willis Hudson: Profiles notable African American women in various fields from Phillis Wheatley, Harriet Tubman, and Ida B. Wells to Condoleeza Rice, Beyoncé, and the founders of Black Lives Matter.
Clean Getaway by Nic Stone: For the life of him, William "Scoob" Lamar can't seem to stay out of trouble–and now the run-ins at school have led to lockdown at home.
Little Legends: Exceptional Men in Black History by Vashti Harrison: Profiles thirty-five prominent men in African American history, including James Armistead Lafayette, Thurgood Marshall, Alvin Ailey, and Leland Melvin.
New Kid by Jerry Craft: After his parents send him to a prestigious private school known for its academics, Jordan Banks finds himself torn between two worlds. (2020 Newbery Medal, Coretta Scott King Book Award)
Some Places More Than Others by Renee Watson: Amara visits her father's family in Harlem for her twelfth birthday, hoping to better understand her family and herself, but New York City is not what she expected.
What Were the Negro Leagues? by Varian Johnson: Author Varian Johnson shines a spotlight on the players, coaches, owners, and teams that dominated the Negro Leagues during the 1930s and 40s. Readers will learn how players like Satchel Paige, Josh Gibson, and of course, Jackie Robinson greatly changed the sport of baseball.
YA
All the Days Past, All the Days to Come by Mildred D. Taylor: When she returns to her home in Mississippi after finishing law school, Cassie Logan becomes involved in voter registration drives and other aspects of the Civil Rights Movement of the 1960s.
Children of Virtue and Vengeance by Tomi Adeyemi: After Zélie and Amari bring magic back to the land of Orïsha, the monarchy and military unite to keep control of Orïsha, forcing Zélie to fight to secure Amari's right to the throne and protect the new maji from the monarchy's wrath.
Jackpot: All Bet$ Are Off by Nic Stone: When Rico sells a jackpot-winning lotto ticket, she thinks maybe her luck will finally change, but only if she and her popular and wildly rich classmate, Zan, can find the ticket holder who hasn't claimed the prize.
Not So Pure and Simple by Lamar Giles: High school junior Del Rainey unwittingly joins a Purity Pledge class at church, hoping to get closer to his long-term crush, Kiera.
Opposite of Always by Justin A. Reynolds: After falling for Kate, her unexpected death sends Jack back in time to the moment they first met, but he soon learns that his actions have consequences when someone else close to him dies.
Pet by Akwaeke Emezi: In a near-future society that claims to have gotten rid of all monstrous people, a creature emerges from a painting seventeen-year-old Jam's mother created, a hunter from another world seeking a real-life monster.
Slay by Brittney Morris: An honors student at Jefferson Academy, seventeen-year-old Keira enjoys developing and playing SLAY, a secret, multiplayer online role-playing game celebrating black culture, until the two worlds collide.
–Kathleen L., Collection Management Librarian