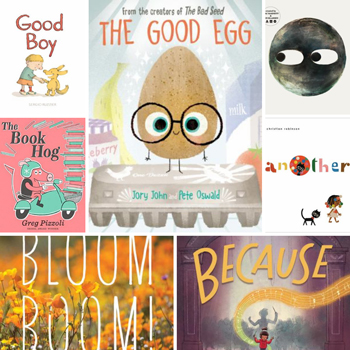 April is a month full of celebrations including National Poetry Month. It's also the Month of the Young Child, when we focus on the benefits of early childhood programs and services. In honor of this annual celebration, we've selected seven picture books that are perfect for reading aloud to the young children in your life — over and over again.
Another by Christian Robinson
Embark on an exciting journey into a beautifully illustrated imaginative world in this wordless picture book.
Because by Mo Willems
Mo Willems composes a powerful symphony of chance, discovery, persistence, and magic in this moving tale of a young girl's journey to center stage.
Bloom Boom! by April Pulley Sayre
Discover the magic and the science behind spring flower blooms with vibrant photographs in this companion to the celebrated Raindrops Roll, Best in Snow, and Full of Fall.
The Book Hog by Greg Pizzoli
The Book Hog loves everything about books, but he has only one problem – he can't read yet! When a kind librarian invites him to join for storytime, this literature-loving pig discovers the treasure that books really are.
Circle by Mac Barnett
New York Times best-selling duo Mac Barnett and Jon Klassen deliver the final wry and resonant tale about Triangle, Square, and Circle in the last chapter of the clever shapes trilogy.
Good Boy by Sergio Ruzzier
A boy and a dog embark on an out-of-this-world adventure in this whimsical picture book from award-winning author-illustrator Sergio Ruzzier.
The Good Egg by Jory John
From the bestselling creators of The Bad Seed, this is a timely story about not having to be Grade A perfect and learning the importance of caring for oneself and others.
— Books Recommended by Kathleen L., Collection Management Librarian