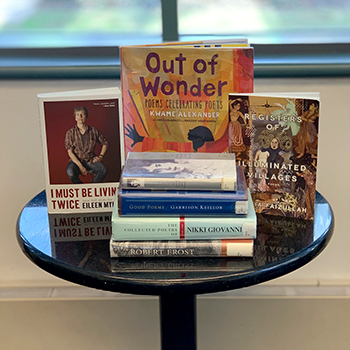 "If I read a book [and] it makes my whole body so cold no fire ever can warm me I know that is poetry. If I feel physically as if the top of my head were taken off, I know that is poetry." – Emily Dickinson
April is National Poetry Month. After checking out this month's Discovery Studio Poetry Month installation at the Quakertown Branch, you might be inspired to read some poetry. Because we couldn't possibly begin to recommend every worthwhile book of poetry, here is a brief selection to get you started. From classic to modern, for every age, there is a poem waiting just for you and your head.
Kids
Out of Wonder: Poems Celebrating Poets by Kwame Alexander, Chris Chris Colderley, and Marjory Wentworth
Three contemporary writers pay tribute to the poets and poems that have inspired them. From Langston Hughes to e.e. cummings, these celebratory verses offer a diverse collection accompanied by vivid illustrations.
Earth Verse : Haiku From the Ground Up by Sally M. Walker
Geological processes and events such as thunderstorms, volcanoes, and glaciers are described using haiku. There is also clear explanatory text that further explores the content of the poems.
Where the Sidewalk Ends by Shel Silverstein
A classic of children's literature — with these poems Silverstein address many common childhood concerns and presents purely fanciful stories. This book is a treasure that you can return to throughout your life.
Be Glad Your Nose Is On Your Face and Other Poems by Jack Prelutsky
Creative wordplay and fun phrases makes this collection a great read-aloud experience.
Classics
The Complete Poetry by Maya Angelou
Maya Angelou wrote, "We delight in the beauty of the butterfly, but rarely admit the changes it has gone through to achieve that beauty." In her poems she admits it all, brings us through it, and shows us what is on the other side.
The Selected Poems of Emily Dickinson by Emily Dickinson
One of the first modern American poets, Emily Dickinson's strict meter and keen observations set the tone for many poets who came after her.
Selected Poems by W.H. Auden
Wystan Hugh Auden was known for his achievements in style and technique, implementing various tones and forms. He wrote on a number of themes from politics and morals to love and loss (such as "Funeral Blues").
The Collected Prose of Robert Frost by Robert Frost
Robert Frost is typically among the first on anyone's lips when asked to name a poet. His depictions of rural life and command of colloquial speech made him universally popular.
Modern
Registers of Illuminated Villages by Tarfia Faizullah
This urgent, contemporary voice speaks of violence, war, and loss but also of survival, courage, and love.
The Collected Poetry of Nikki Giovanni by Nikki Giovanni

Coming out of the Civil Rights Movement, Nikki Giovanni writes with a fearless passion. This collection shows the transition from angry protests to quiet introspection.
The Trouble With Poetry and Other Poems by Billy Collins
Filled with irony and wit, this former Poet Laureate is equally accessible and thought provoking.
I Must Be Living Twice: New & Selected Poems by Eileen Myles
This eclectic mix of Eileen Myles's poetry ranges from candidly depicting autumn in New York to the euphoria of falling in love.
Anthologies
If you can't decide where to start, try picking up an anthology.
Good Poems selected by Garrison Keillor
Delivering on the title promise, Garrison Keillor has selected some good poems originally intended for the audience of his radio program, A Prairie Home Companion.
An introduction to haiku and other short Japanese poetry by masters of the form, including their history and definitions.
World Poetry: An Anthology of Verse from Antiquity to our Time
If you haven't felt the top of your head taken off yet, this anthology is bound to do the trick. It covers all ages, languages, and cultures.
— Books recommended by Brian W., Assistant Manager, Quakertown Branch