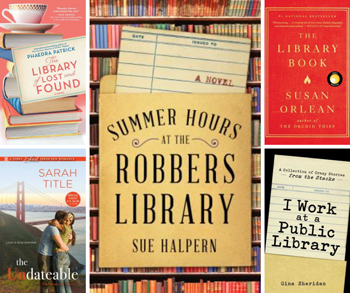 National Library Week is April 7 to 13. This annual observance, highlighting the contributions of our nation's libraries and library workers, has been celebrated for more than 60 years! Let's start the celebration by highlighting books featuring our favorite subject: libraries. This list includes mysteries, romances, and true tales from the front lines of library work.
Summer Hours at the Robbers Library by Sue Halpern
Kit, the isolated head librarian of Riverton, New Hampshire's public library, finds herself drawn out of her shell by teenage Sunny, sentenced to community service for shoplifting, and former Wall Street hotshot Rusty. A quirky collection of library regulars rounds out the cast as the three come to terms with their pasts and find happiness.
The Library Book by Susan Orlean
If you haven't yet read Susan Orlean's page-turning account of the Los Angeles Public Library and the catastrophic 1986 Central Library Fire, add it to your TBR pile. It received critical and popular acclaim and is a can't-miss title for library lovers.
The Library of Lost and Found by Phaedra Patrick
Timid librarian Martha Storm has spent her life helping everyone around her, but feels invisible herself. But when a strange package prompts her to investigate the mysterious death of her grandmother years before, that seems likely to change.
I Work at a Public Library by Gina Sheridan
Sheridan delivers a collection of strange-but-true tales from her own and other librarians' experience working on the front lines at the public library. From awkward conversations to unique reference questions, I Work in a Public Library will introduce you to the challenges and joys of public librarians everywhere.
The Undateable by Sarah Title
This first book in Sarah Title's Librarians in Love series brings all your favorite romance tropes into the library. Librarian Melissa Bernard finds herself suddenly famous after she's caught rolling her eyes in a viral video of a marriage proposal in her library's stacks. Romance columnist Colin Rodriguez, unlucky in love himself and with his career on the line, approaches her with a different proposal – he'll help her find love and get a story out of the deal. You can see where it's headed, but do you really mind?
— Recommended by Jennifer M., Collection Management Coordinator