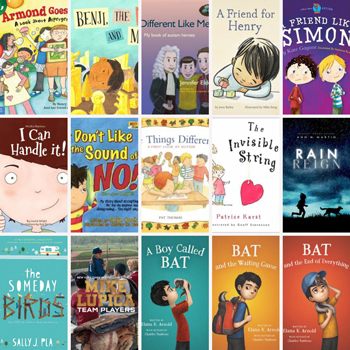 April is Autism Awareness Month. This annual celebration "represents an excellent opportunity to promote autism awareness and acceptance." In honor of Autism Awareness Month, we've put together a list of books that includes titles about neurodiversity, as well as titles that will help children cope with childhood fears.
Armond Goes to a Party: a Book About Asperger's and Friendship by Nancy L. Carlson – With help from her coauthor, a middle schooler with Asperger's syndrome, Carlson explains why a child with a spectrum disorder might be reluctant to attend a friend's party. Yet with some peer understanding and adult assistance, the challenge can become an opportunity to have fun as well as be a friend.
Benji, the Bad Day, and Me by Sally J. Pla – Sammy is having a very bad day at school and at home until his autistic brother, Benji, finds a way to make him feel better.
Different Like Me by Jennifer Elder – This book profiles twenty famous individuals who may have been autistic, including Albert Einstein, Andy Warhol, Dian Fossey, and Glen Gould.
A Friend for Henry by Jenn Bailey – Henry would like to find a friend at school, but for a boy on the autism spectrum, making friends can be difficult, as his efforts are sometimes misinterpreted, or things just go wrong–but Henry keeps trying, and in the end he finds a friend he can play with.
A Friend Like Simon by Kate Gaynor – The story begins with Matthew greeting his new classmate Simon on his first day at a new school. When Matthew realizes Simon is a little different to his other friends, he's just not sure if he wants to have 'a friend like Simon'. However, a school trip to the funfair soon helps to change his mind
I Can Handle It by Laurie Wright – Can Sebastien handle his problems? Of course he can, with the help of a mindful mantra. Chances are whatever his problem may be, he can handle it!
I Just Don't Like the Sound of No! by Julia Cook – RJ, who hates the word "no", learns to come to terms with it when he joins his class's "Say Yes to No" club.
I See Things Differently by Pat Thomas – Psychotherapist and counselor Pat Thomas puts her gentle, yet straightforward approach to work in this picture book aimed at helping children understand what autism is and how it affects someone who has it.
The Invisible String by Patrice Karst – When Liza and Jeremy run to their mother during a scary storm, she comforts them by telling them about the Invisible String, which connects people who love each other no matter where they are and means that they are never alone.
Rain Reign by Ann M. Martin – Struggling with Asperger's, Rose shares a bond with her beloved dog, but when the dog goes missing during a storm, Rose is forced to confront the limits of her comfort levels, even if it means leaving her routines in order to search for her pet.
The Someday Birds by Sally J. Pla – Charlie, twelve, who has autism and obsessive compulsive disorder, must endure a cross-country trip with his siblings and a strange babysitter to visit their father, who will undergo brain surgery.
Team Players by Mike Lupica – A girl with Asperger's joins Cassie's softball team but not everyone on the team welcomes her, creating a rift between Cassie and her teammates.
"Bat" Series by Elana K. Arnold – A funny, heartfelt, and irresistible young middle grade series starring an unforgettable young boy on the autism spectrum:
A Boy Called Bat
Bat and the Waiting Game
Bat and the End of Everything
— Recommended by Kathleen L., Collection Management Librarian and Michelle W., Development Director