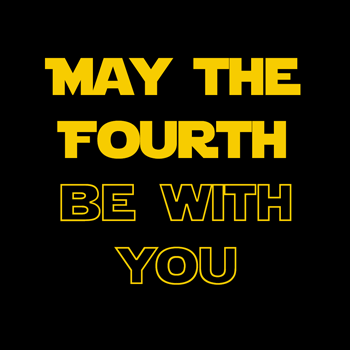 Star Wars Day (May 4th) is almost upon us and if you are strong enough to pull the ears off a Gundark, we have exactly what you are looking for and all of it is just 12 parsecs away with your trusty library card.
If you are a young Padawan and just starting to venture out into the Star Wars Universe, do not worry. You will not be judged by your size. May we recommend Geof Smith's Everything I Need To Know I Learned From A Star Wars Little Golden Book, an inspirational collection of Little Golden Book adaptations of classic Star Wars storylines featuring full-color illustrations of epic scenes from the entire saga.
No, your eyes are not deceiving you. We do have the Star Wars Binge Box (available in DVD and BLU-RAY formats) which includes Episodes I – 8 and Rogue One: A Star Wars Story.
It is the fastest hunk of junk in the galaxy, but if you have never heard of it, check out The Millennium Falcon: Modified YT-1300 Corellian Freighter: Owner's Workshop Manual. This book traces the model history of the Corellian Engineering Corporation's YT series of spaceships and the development of the YT-1300 model line as well as a thorough technical guide that covers every aspect of the legendary spaceship.
You can also witness the power of the Library's fully operational E-book Resource Center. Carrie Fisher's The Princess Diarist is a must-read. It is an intimate, hilarious and revealing recollection of what happened behind the scenes of A New Hope. Remember, we also offer Hoopla, which is our light speed streaming service. Stay on target with Hoopla's Graphic Novel section. If you do not want a boring read, check out Marjorie Liu's series about everyone's favorite scoundrel, Han Solo, and his Wookiee co-pilot, Chewbacca.
And if you crave adventure and excitement (even if you are a Jedi), you can visit your local branch (not in a galaxy far, far away) for the following events, all taking place on Saturday, May 4.
Levittown Branch — Star Wars Day: A Galactic Celebration, 10 a.m. to 12:30 p.m.
Quakertown Branch — May the Fourth Be With You, 9 a.m. to 5 p.m.
Yardley-Makefield Branch — May the Fourth Be With You, 9 a.m. to 5 p.m.
And whenever you find your lack of reading material disturbing, remember to visit your local library.
— Written by Stephanie K., Customer Service Associate, Quakertown Branch