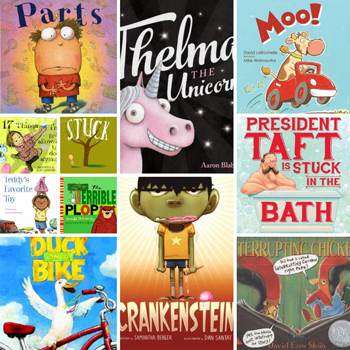 When bedtime rolls around it can feel like a never-ending process…baths, teeth to be brushed, pajamas, and then storytime. Doesn't it feel like the kids always pick the longest book ever? Why not make storytime fun for you as well by reading the following books together?
Parts by Tedd Arnold
What happens when a six-year-old thinks he's falling apart? You get a funny journey of a child discovering the different parts of himself that will have you laughing out loud.
Thelma the Unicorn by Aaron Blabey
Thelma the horse has dreams! She wants to be a unicorn and by a happy surprise, she becomes one!
Moo! by David LaRochelle
A cow goes on a joy ride…this book and illustrations will delight the reader as they go on an adventure with an ambitious cow.
17 Things I'm Not Allowed to Do Anymore by Jenny Offill
The protagonist makes a list of things she's not allowed to do any longer…from using glue to reading fortunes. She's just not allowed!
Stuck by Oliver Jeffers
A kite flies into a tree and what ensues is an epic adventure of getting unstuck. While sometimes silly, this book delivers on the funnies for all readers.
Teddy's Favorite Toy by Christian Trimmer
Teddy has lots and lots of toys. His favorite one is Bren-Da the Warrior Queen of Pacifica…but she's missing! The illustrations and the dialogue in this book will be a delight to all readers, especially when Teddy utters his catch phrase.
The Terrible Plop by Ursula Dubosarsky
The terrible plop has come to the forest. Can the animals save themselves in time before it gets them? It sounds like a horror novel but the reader is in on the joke from the very beginning. Readers will be giggling along as the forest animals solve the mystery of the plop.
Crankenstein by Samantha Berger
Poor Crankenstein. Today is just not his day. He woke up in a bad mood and it's all been downhill from there. Parents will find themselves laughing out loud as he navigates his day at school.
Some notable mentions are:
President Taft is Stuck in the Bath by Mac Barnett:
Was the 27th President really stuck in the tub? We may never know but this book does a good job of explaining how the President becomes unstuck.
Duck on a Bike by David Shannon
A duck decides to ride a bike through town. As he makes his journey through town, the reader will learn about animals and their animal sounds, all while laughing at this funny tale.
Interrupting Chicken by David Ezra Stein
This Caldecott Honor Book tells the story of a chicken who cannot sleep without a story. The only problem is, she knows all of the endings of the books. Her poor father can't get through a tale without being interrupted. This book will have all readers laughing as the father finds a way to put Chicken to sleep.
Enjoy these books with your child or just read them for yourself! All of these titles can be found in our catalog.
–Written by Lindsey D., Youth Services Assistant, Levittown Branch