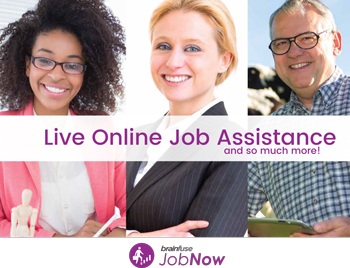 When you're looking for a job or considering a career change, you can use all the help you can get. That's where your BCFL library card comes in — it now gives you access to JobNow, which offers services and powerful tools that can help you in every step of your job search.
Resume Assistance
First impressions count. In many cases, a resume is the first document a hiring manager reviews when screening job applications. With JobNow's templates, resources, and Resume Creator you can create an effective resume. Submit your resume to JobNow's Resume Lab and you'll get expert analysis within 24 hours.
Career Planning with Live Online Career Coaches
Job seekers benefit greatly from live assistance. JobNow's job coaches can help you determine your strengths and career objectives and work with you to develop successful job search strategies.
You can also take advantage of local job listings, personality and career assessments, and other useful information. Use JobNow's eParachute to search for what to do with your educational experience and set yourself on the path to a career of your dreams.
Live Online Interview Preparation
Get live one-on-one interview coaching from JobNow's online instructors including simulated interview practice in a virtual classroom. JobNow also offers a continually-updated library of effective interview preparation strategies, common employer questions, and proven interview techniques.
Expert Job Coaches
JobNow's job coaches are required to have HR experience and undergo a multi-step evaluation and training process including: resume review, online proficiency test, comprehensive background check, training, and more.
Adult Learning Center with Live Online Tutors
JobNow's Adult Learning Center offers skills building, test preparation, and an academic skills center featuring live, online tutors who offer skills tutoring and writing assistance. Use the Test Center to prepare for tests and master academic skills.
To use JobNow, visit our e-library.
JobNow is funded by Bucks County Free Library through the support of the Hamilton G. Disbrow Trust.