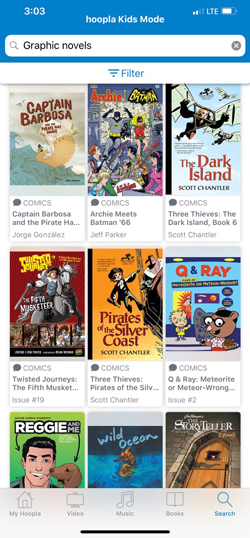 If your child is a fan of graphic novels, chances are you've walked out of the library carrying piles of them! But did you know your kids can also borrow graphic novels and comics digitally on your tablet, smart phone, or computer? It's amazing, and it's true.
Bucks County residents can borrow up to ten titles a month using Hoopla. All you need is a library card and PIN! Items on Hoopla are always available with no waiting and are a great way to keep your kids reading when library day is just a few days away. The service offers ongoing series titles like Lumberjanes, Big Nate, and Percy Jackson, as well as popular favorites like Disney, Garfield, Archie, and Peanuts.
Check out one of these fresh titles to share with your child today!
Captain Barbosa and the Pirate Hat Chase by Jorge Gonzáles
In this wordless graphic novel, Captain Barbosa sails the seven seas with his trusty shipmates: a fly, an alligator, and an elephant. A seagull steals his treasured hat, and Barbosa and his crew give chase. The ending of this sea-faring tale is sure to make you smile!
Gillbert Vol. 1: The Little Merman by Art Baltazar
In the deepest part of the ocean, unexplored by man and too deep for humans to swim, lives a little sea creature named Gillbert. One day, Gillbert will be king. But in the meantime, his playful curiosity takes him away from the kingdom on a journey of discovery.
Hex Vet: Witches in Training by Sam Davies
Have you ever wondered where witches' cats go when they pull a claw? Or what you do with a pygmy phoenix with a case of bird flu? Nan and Clarion have you covered. They're the best veterinarian witches of all time—at least they're trying to be. But when an injured rabbit with strange eyes stumbles into their lives, Nan and Clarion have to put down their enchanted potions and face the biggest test of their magical, medical careers.
Goldie Vance Series by Hope Larson
Sixteen-year-old Marigold "Goldie" Vance lives at a Florida resort with her dad, who manages the place. Goldie has an insatiable curiosity, which explains her dream to one day become the hotel's in-house detective. When Charles, the current detective, encounters a case he can't crack, he agrees to mentor Goldie in exchange for her help solving the mystery.
El Deafo by Cece Bell
Going to school and making new friends can be tough. But going to school and making new friends while wearing a bulky hearing aid strapped to your chest? That requires superpowers! In this funny, poignant graphic novel memoir, author/illustrator Cece Bell chronicles her hearing loss at a young age and her subsequent experiences with the Phonic Ear, a very powerful—and very awkward—hearing aid.
Lupin Leaps In by Georgia Dunn
Breaking news – the humans are doing something strange again! See the world through a cat's eyes as these newscaster kitties cover what cats really think about such human topics as Halloween, haircuts, and reading books to kids. Spoiler alert – it's hilarious.
Nathan Hale's Hazardous Tales series by Nathan Hale
From the trenches of World War 2 to the ill-fated Donner Party expedition, Nathan Hale's Hazardous Tales is a series that covers history's most… well, hazardous tales. The author's humor and accessible writing makes the events of history come to life in a way that will appeal to both kids and grownups looking to learn a thing or two.
— Recommended by Michelle K., Youth Services Librarian, Perkasie Branch