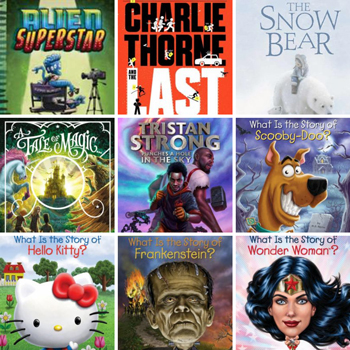 Start off a spectacular school year with a new series by authors you know and love! All but one of these highly anticipated juvenile books are also available on cloudLibrary. You won't want to miss the start of these captivating new series books!
Alien Superstar by Lin Oliver and Henry Winkler
From the dynamic duo of Henry Winkler and Lin Oliver, who brought you Here's Hank, comes a new out-of-this-world middle-grade science fiction series. No one is shocked by the six-eyed alien strolling around the Universal back lot. The tourists just think he's part of the show. It doesn't take long for Buddy to land a role on a popular TV show, playing (of course) an alien. He becomes an overnight heartthrob and is suddenly faced with legions of adoring fans, rides in glamorous limos, and appearances at "all-the-shrimp-you-can-eat" red carpet parties. But can Buddy maintain his secret identity while in the spotlight?
Charlie Thorne and the Last Equation by Stuart Gibbs
From the author that brought you Spy School, comes the first novel in a thrilling new series about the world's youngest and smartest girl who's forced to use her unbelievable code-breaking skills to outsmart Einstein. Charlie Thorne is a genius, a thief, and isn't even old enough to drive. In a breakneck adventure that spans the globe, she must crack a complex code created by Einstein himself, struggle to survive in a world where no one can be trusted, and fight to keep the last equation safe once and for all.
The Snow Bear by Holly Webb
After falling in love with the adorable animals in her Pet Rescue Adventures, Holly Webb is back with the start of a blustery new animal series called Winter Journeys. Sara loves to listen to Grandpa's stories of his adventures in the Canadian Arctic when he was a boy. As the snow begins to fall, she builds a snow bear just like the one in Grandpa's story. In the middle of the night, Sara wakes up and sets out on an enchanted journey through a world of ice and meets a special polar bear cub who befriends her. But will she ever find her way back home?
A Tale of Magic by Chris Colfer
This new fantasy series set in The Land of Stories universe is filled with adventure, imagination, and wonderfully memorable characters both familiar and new. When Brystal Evergreen stumbles across a secret section of the library, she discovers a book that introduces her to a world beyond her imagination and learns the impossible — she is a fairy capable of magic! Do Brystal and her classmates have what it takes to stop a sinister plot that risks the fate of the world, and magic, forever?
Tristan Strong Punches a Hole in the Sky by Kwame Mbalia
Best-selling author Rick Riordan presents Kwame Mbalia's epic fantasy, a middle grade American Gods set in a richly-imagined world populated with African American folk heroes and West African gods. The book is part of Disney-Hyperion's new Rick Riordan Presents imprint that will publish about four books a year. This book stars Tristan, a seventh-grade boy, who accidentally creates a hole into the Midpass, a world where ancient African gods clash with gods of African-American legend. He must repair the rip before the iron monsters wreak havoc in the Midpass and take over the world.
What Is the Story Of?
From the creators of your favorite Who Is/Who Was series, comes a new non-fiction series that explores the background of your favorite characters! The titles below have already been released. Look for more to be published this fall and next spring!
— Recommended by Kathleen L., Collection Management Librarian