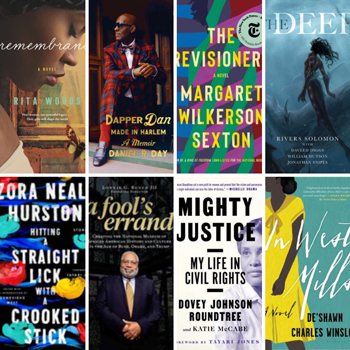 To commemorate Black History Month, celebrated every February, we recommend these eight reads for adults. All are new titles and include memoir, fantasy, and historical fiction.
Fiction
Remembrance by Rita Woods: Remembrance is a stop along the Underground Railroad, a magical pleat in time and space. If the enslaved can find their way to it, they disappear from the slave hunters and from white people altogether, and can live in peace and freedom. The trauma of slavery forms the core of Woods's arresting debut, which weaves together tales of four black women from the late 1700s to the present day.
Hitting a Straight Lick with a Crooked Stick by Zora Neale Hurston: Not only does this collection include some of the greatest stories from the great Hurston, examining race, class, sex, and love within the context of African American culture, but it includes eight "lost" Harlem Renaissance tales unearthed from obscure periodicals and archives. The result is a refreshed view of Hurston as an American classic.
The Deep by Rivers Solomon, Daveed Diggs, William Hutson, and Jonathan Snipes: The water-breathing descendants of African slave women tossed overboard have built their own underwater society–and must reclaim the memories of their past to shape their future in this brilliantly imaginative novella.
In West Mills by De'Shawn Charles Winslow: Let the people of West Mills say what they will about Azalea "Knot" Centre; they won't keep her from what she loves best: cheap moonshine, nineteenth-century literature, and the company of men. And yet, when motherhood looms, Knot begins to learn that her freedom has come at a high price. Low on money, ostracized from her parents and cut off from her hometown, Knot turns to her neighbor, Otis Lee Loving, in search of some semblance of family and home.
The Revisioners by Margaret Wilkerson Sexton: An excellent story of a New Orleans family's ascent from slavery to freedom. In alternating chapters, two women tell their haunting, frightening, and ultimately uplifting stories: Ava, a mixed-race single mom struggling to establish a career and raise a teenage son in 2017, and her great-great-grandmother Josephine, a former slave who in 1924 proudly runs the family farm.
Nonfiction
Dapper Dan: Made in Harlem by Daniel R. Day: In this moving memoir, Day (aka Dapper Dan) chronicles his rise from a poor black boy growing up in 1940s Harlem to becoming a notable designer of streetwear. With clients ranging from gangsters and pimps to Jay-Z and Beyoncé, Day saw each customer as "an actor auditioning to be in this big, generational movie I'm making."
A Fool's Errand: Creating the National Museum of African American History and Culture in the Age of Bush, Obama, and Trump by Lonnie G. Bunch, III: From its preface through its final pages, this debut by Bunch seamlessly weaves the personal and political work that went into envisioning, planning, funding, building, and opening the museum. With frankness and optimism, he recounts tireless work fundraising, siting the building, selecting an architect, assembling a collection, and devising narratives to interpret that collection for visitors.
Mighty Justice: My Life in Civil Rights by Dovey Johnson Roundtree: Trailblazing African American civil rights attorney Dovey Johnson Roundtree recounts her inspiring life story that speaks movingly and urgently to our racially troubled times. From the streets of Charlotte, North Carolina, to the segregated courtrooms of the nation's capital; from the male stronghold of the army where she broke gender and color barriers to the pulpits of churches where women had waited for years for the right to minister–in all these places, Roundtree sought justice.
— Jennifer M., Collection Management Coordinator