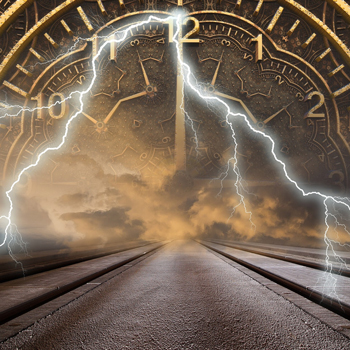 If your TARDIS, Time Turner, or DeLorean is in the shop, never fear! With your library card and a good book, time travel has never been easier. Here are some amazing time machines for kids you can check out for FREE at the library!
Magic Tree House Series by Mary Pope Osborne
Climb inside a time traveling tree house and visit worlds of the past, both real and imagined. Love to learn more? Check out the non-fiction companion books to many of the titles in this series, chock-full of fabulous facts!
Time Warp Trio Series Jon Scieszka
Reading a book about kids who travel in time by reading a book must magnify your time travel power, right? Or does it cancel it out? Ah, the temporal paradoxes!
Flashback Four Series by Dan Gutman
Mysterious billionaire, Miss Z, has invented "the smartest smartboard in the world." So smart, it can teach you about history…by taking you there. Ready to go?
Baseball Card Adventure Series by Dan Gutman
Some kids collect comic books, others collect seashells. And some collect baseball cards that take you back in time.
Sal and Gabi Break the Universe by Carlos Hernandez
Ever have one of those days when you try to make a hole in the space-time continuum and you end up ripping it instead? If not, then you haven't met Sal Vidón! But, if you love this hilarious new book and want to read the rest of the books in the series, you'll have to travel forward in time. They haven't been written yet!
Time Quintet by Madeleine L'Engle
Begin with the classic A Wrinkle in Time, and see where, and when, the journey takes you.
And lest you think only humans enjoy a frolic through time, try a journey with one of these furry, four-legged time hoppers.
Geronimo Stilton Journey Through Time Series by Geronimo Stilton
Hop aboard the Mouse Mover 3000 with Mouse Island's foremost newspaper editor turned time traveler, Geronimo Stilton! And brie prepared for adventures so gouda, they'll knock you off your feta.
Ranger in Time Series by Kate Messner
Search-and-rescue dog in training, Ranger, digs up something very unusual in the garden. Hold onto your fur as you embark on action-packed adventures made possible by the magic of a time-traveling first aid kit! You'll never look at Band-Aids the same way again.
And remember, these time machines are fueled entirely by the power of your imagination. So let's go!
— Recommended by Emily K., Youth Services Librarian, Doylestown Branch