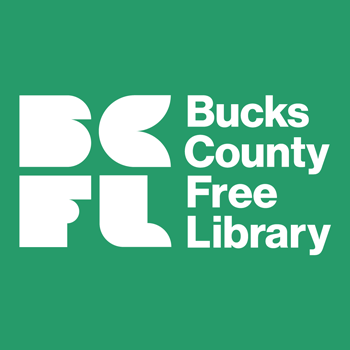 Today, we're unveiling our new visual identity. The brand revisualization includes new logos, an engaging color palette, and a new visual system that will grow alongside the library and our community.
Our new identity expresses a sense of excitement and energy and reflects our commitment to evolution, growth, and innovation. From updating our collections to meet the interests of the community, to adding maker spaces to bring creative-minded people together, to innovating children's programming to ensure that learning is always fun, we continue to evolve and expand the boundaries of what a library can do and be.
Our new identity has roots in our past and acknowledges the nostalgia that many feel for the blue and green color palette that has helped users identify the library for many years. The expanded color palette includes blue and green, as well as new colors chosen to evoke a greater sense of nostalgia. No matter the ages, backgrounds, or experiences of the diverse Bucks County community, everyone has a sentimental memory about the library. Whether you visited a BCFL branch as a child, taken your children to a storytime, or attended a program, the library is a place of happy moments and memories for Bucks County residents.
One of the most important aspects of the new identity is that it will help unify the seven branches as belonging to one library system and will ensure that users have a consistent experience at each branch.
Our new identity can live anywhere we need it to live: on our delivery trucks that travel through the county every day, on posters that promote our new and exciting events, on our social media pages, or on a sign that greets you as you walk through our doors. You'll always be able to identify who we are, whether you visit one of our branches or see us on the road in your neighborhood.
Although our new identity is being revealed today, it will be some time before all aspects of the revisualization are complete. Please stay in contact with us as we make these changes by signing up for our newsletter, visiting our website, popping in to your local branch, and following us on Instagram, Facebook, and Twitter.
We are excited that you are joining us on this exciting journey.