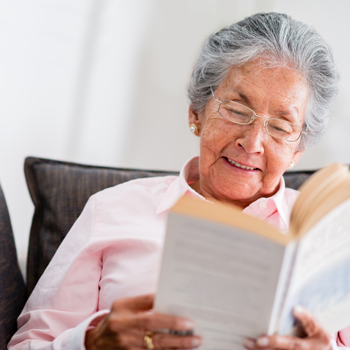 If you are caring for an older family member, the library has resources to help you manage and plan.
Our Large Print Collection has a wide assortment of current fiction and non-fiction books. Just search "Large Print" in the catalog.
For those who read e-books, the fonts can be adjusted larger and e-readers can weigh less than books.
Our Audiobook Collection, including a large collection of e-audiobooks, also has new content added each month.
Our Ability Tools collection allows you to try some products before you buy.
Here are some particularly good books I recommend:
Elderhood by Louise Aronson – Geriatrician Aronson lays out what older people need to thrive as our population lives longer.
How to Be a Patient by Sana Goldberg – Registered Nurse Goldberg gives tips for patients and their advocates in navigating our complicated health care system.
Women Rowing North by Mary Pipher – Pipher offers common sense advice on aging using engaging stories from women she has interviewed, from different walks of life, plus her own experience.
— Recommended by Ceil H., Manager, Collection Management Department