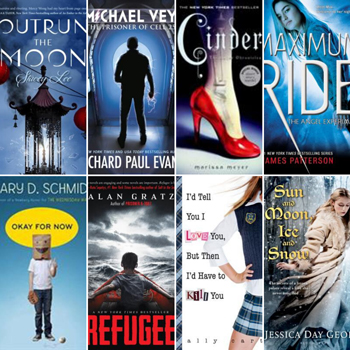 There's something uniquely exciting about browsing the library shelves and picking up a book you've never heard of before, whether it's because the cover catches your eye or the blurb on the back grabs your attention. But it can be scary too, especially if you like to avoid books with a lot of violence, language, or intimate relationships. It can be overwhelming knowing where to even start, whether you are just making your first forays into the Young Adult section or if you're just looking for something new! Don't worry, we're here to help with this list of books that are exciting, engaging, and safe for any level of content–comfortableness–all at the same time!
Outrun the Moon by Stacey Lee
It's 1906, and Mercy Wong is determined to escape from her impoverished life in Chinatown, San Francisco. Although St. Clare's School for Girls accepts only the wealthiest white girls, Mercy secures herself a position through a little cunning and a little bribery, only to discover that getting in is the easiest part.
Michael Vey by Richard Paul Evans
Between having Tourette's Syndrome and the ability to control lightning, Michael Vey has always felt like a bit of an outcast. When a run-in with some bullies leads him to realize that there are others with powers like his–and that there's even a school for people like him!–he starts to feel for the first time like maybe he's not alone. Unfortunately, not everything is as it seems…
Cinder by Marissa Meyer
We all know the story: Servant girl. Wicked stepmother. Pumpkin. Midnight. Glass slipper. But this book tells the Cinderella story like you've never heard it before. Cinder is an android mechanic tasked with repairing the prince's personal assistant robot before the wicked queen of Luna arrives to present the prince an ultimatum: marry her (and give her control of most of the galaxy) or face war and plague.
And if you like Cinder, you can continue with its five sequels and four spin-off novels!
Maximum Ride: The Angel Experiment by James Patterson
"The Flock" is a ragtag group of six kids, so called because of the wings given to them through genetic hybridization: they are, in fact, 2% avian. When the youngest of six, Angel, is abducted, Maximum Ride leads her four remaining "siblings" on a hunt to find both their sister and their past. You can follow it up with the other books in the series!
Okay for Now by Gary D. Schmidt
It's 1968, right in the middle of the Vietnam War. When Doug's dad loses his job in Long Island, the Swieteck family move to Marysville, where Doug feels out of place. As he juggles dealing with his dad's anger, his brother's return from war, and his job at a local deli (run by his crush's dad), Doug finds solace in his art.
Refugee by Alan Gratz
Told across decades, Refugee is the story of three kids trying just to survive. Josef is a Jewish boy living in Nazi Germany; Isabel lives in Cuba in 1994; and Mahmoud is a Syrian boy in 2015. Each of these three kids set off on a journey to find refuge from the danger and oppression of their home countries.
Sun and Moon, Ice and Snow by Jessica Day George
In this retelling of "East of the Sun, West of the Moon" (a precursor to "Beauty and the Beast"), Lass has the strange ability to communicate with animals. This makes her feel like an oddball, even amongst her family and their multitude of challenges. So when a great, white bear finds her and tells her that if she journeys with him, he will make her family wealthy, it's an easy choice for her to make. But soon, Lass realizes that there's more at stake, and she's going to have to break an enchantment, fight an evil queen, and save her family.
If you like this book, try George's other fairytales, like Princess of the Midnight Ball or Robin McKinley's Beauty and Rose Daughter.
I'd Tell You I Love You, but Then I'd Have to Kill You by Ally Carter
Cammie Morgan is fluent in fourteen languages and can kill a full-grown man with a few pieces of uncooked spaghetti, thanks to her education at Gallagher Academy, a spy school masquerading as an average all-girls boarding school. What Cammie is not trained for is falling for a truly average boy, or how to hide her spy life from him and her relationship with him from her superspy mom.
Whatever you're interested in, whether it's romance or history, spaceships or spies, or even just real life, there's a book for you! If you're still feeling apprehensive about your luck finding something both clean and fun, you can always ask a librarian…we're here to help!