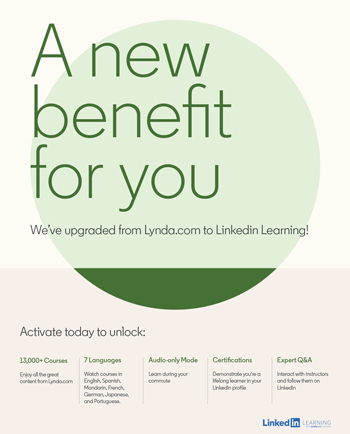 Update: Our transition to LinkedIn Learning from Lynda.com has been put on hold. Please continue to use Lynda.com to learn new skills.
On Tuesday, September 24, Lynda.com will become LinkedIn Learning. With the upgrade, you'll have access to over 14,500 courses, including in six other languages beyond English: French, German, Japanese, Spanish, Mandarin, and Portuguese.
You will need your library card number and PIN to access the resource. In addition, you will need to have a LinkedIn profile.
Your first name, last name, and an email address are the only requirements to create a LinkedIn profile. You'll have the same controls that all LinkedIn members do, including the ability to set your profile's public visibility off as soon as you sign up. You can also choose to not have your profile be searchable on search engines. To learn how to manage LinkedIn's privacy settings, read this article on Consumer Reports.
For more information on this upgrade, visit LinkedIn for Learning for Library — Patron FAQ.