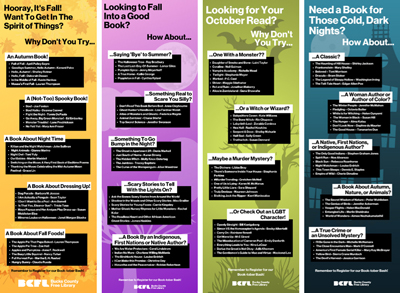 We get it; between school and work and planning that killer costume, the first few weeks of Fall can be A LOT. And if you signed up for our BCFL Read-A-Thon, you might be finding yourself a few books behind schedule.
But never fear, because October 19 marks the very first day of our Beanstack Book-tober Bash Challenge!
If you're just tuning in, every month on Beanstack, we give you the chance to read books, beat challenges, and unlock badges.
During the next two weeks, special October-themed challenges will be available for everyone to enjoy. And we mean everyone. That's right, this time we have a special challenge…for adults!
All signed up but wondering what to read? If you're having trouble with certain challenges, or you're just pulling a blank on a good book to check out next, we have your back! We've curated booklists for each challenge level, so if you need some help figuring out what to tackle, check them here or on Beanstack itself:
You can join Beanstack through our website or download the App from your app store. It's a great, easy way to track what you've been reading, so give it a shot! It's never too late to register, so come join the Bash! It's a Graveyard Smash!
— Sam Y., Programming Assistant, Children's Services