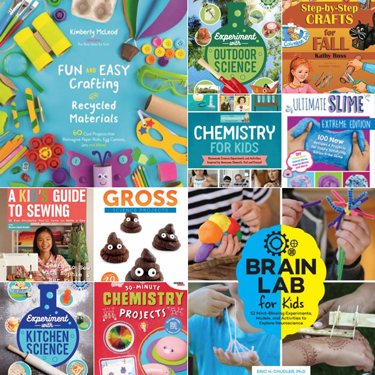 At the library, we know that screen fatigue might be hitting hard where you are. Whether you're doing virtual learning, working from home, or taking advantage of the digital resources safely at home, we're all using our screens a bit more than we used to. So we thought we'd share a roundup of family-friendly books that will take you away from the screens and back to crafting, experimenting, and exploring with what you have around the house or from the outdoors!
Gross Science Projects: We wanted to kick this list off strong with a funny, sometimes gross, but always fun book of projects! This book has 15 uniquely icky projects that you can work on with simple materials & full-color, photographic instructions. Everything from Fake Blood (p. 7) to a Wailing Wobbler (p. 44), there is sure to be something to make you laugh and create! Our pick? Try out the Fake Snot (p.16) or Burping Bottle!
Step-by-Step Crafts for Fall: With fall officially here, this is the perfect resource to get your fall creative juices flowing! This book has twenty different crafts and activities that center around Fall or different events that take place during this season. Colorful illustrations accompany the instruction for each craft. Our pick? Try out the adorable Fall Leaf Coasters (p. 10) or the fun Bat Treat Holders (p. 28)!
Experiment with Outdoor Science: Get ready for some outdoor fun with this book! With five chapters exploring different topics and 30 activities to choose from, this resource is sure to keep you entertained for a while! With a mix of photographs and illustrations, Experiment with Outdoor Science walks you through how to complete each activity step-by-step! Just opening its pages has us clamoring to get outside! Our pick? Try out Bird Breakfast (p. 56) or for a simpler activity try out Everlasting Flowers (p. 44)! Both allow you to interact with nature in different ways that are equally fun!

Chemistry for Kids! Homemade Science Experiments and Activities Inspired by Awesome Chemists, Past and Present: Are you looking for a little more than just fun experiments? Look no further than this book! Matching fun, kid-friendly experiments with short biographies of chemists, The Kitchen Pantry Scientist: Chemistry for Kids pairs hands on science with history! Kids will be inspired from both the people and the activities. Step-by-step instructions with colorful illustrations and photographs are included for all 25 of the activities listed out. Our pick? Try out Tapputi-Belatikallim's Fragrance Distillation (p.10-13) or the colorful Temperature and Chemical Reactions (p. 45-47) experiment inspired by Svante August Arrhenius.
A Kid's Guide to Sewing: 16 Fun Projects You'll Love to Make and Use: Taking a step back from science and experiments, we wanted to share with you an oldie, but a goodie—sewing! Sewing not only allows you to be creative and inventive, but it can also be a way to slow down and embrace some more mindfulness when working on a project. This book has 16 unique projects perfect for kids to use on the everyday! Start by going through the provided list of tools needs and then read the safety instructions before plunging into the projects you can create! Our pick? Try out the Cuddle Fleece Scarf (p. 54) for the upcoming colder weather or the Insulated Lunch Bag (p. 116) for an all-season item!
Fun and Easy Crafting with Recycled Materials: This 2019 release is perfect for younger crafters! Take items you already have laying around the house or possibly would have recycled, and put them to use in a creative way! This book has 60 projects to choose from using all types of recycled materials. Filled with colorful photographs, each project walks you through from start to finish. Each chapter includes projects organized by its main material: paper rolls, egg cartons, newspapers/scrap paper, cardboard, ice pop sticks, or jars/bottles, and more! Our picks? There were so many good ones it was hard to choose, but we suggest trying out Rainbow Rainstick (p. 22), Penguin Antarctica Play Scene (p. 42), or Silly Tissue Box Monster (p. 80)!
Ultimate Slime: Extreme Edition: No project booklist is complete without a book on SLIME! This extreme edition has over 100 recipes and projects for creating fun, colorful, borax-free slime! We fell the title says it all for this one. Our pick? Try out the Icee Slime (p. 48), the Color-Changing Slime (p. 56), or the beautiful Metallic Foil Slime (p. 70). eBook edition.
30-Minute Chemistry: This is the perfect short-distraction book. When you're short on time, open up this resource for a quick, but fun experiment around chemistry! Each of the 10 projects include photographs, illustrations and written out instructions. Our pick? Try out the Glow-in-the-Dark Water (p. 8) or the Homemade Lava Lamp (p. 20)!
Experiment with Kitchen Science: Who says you can't play with your food? With Experiment with Kitchen Science that's exactly what you get to do! Pick from 30 different experiments and activities involving food! With the eatable materials, this is sure to be a favorite resource! Each project includes illustrations and photographs alongside the step-by-step instructions. Our pick? Try out Giant Candies (p. 16), Crazy Lemon Volcano (p. 48), or the Weird Toast (p. 50) projects!
Brain Lab for Kids: BRAINS! BRAINS! BRAINS! Don't worry, this isn't a book about zombies even though it's all about the brain! Dive into this resource for 52 different projects and activities that explore the brain and neuroscience. Follow along with full-color photographs and easy-to-read instructions to complete each project. Full of fun and learning, Brain Lab for Kids will have you flexing your brain muscle! Our pick? Try out the Brain Protector (p. 34) experiment or the Touch Maze (p. 96) activity!
We hope these books let you take a step back from the screen and open up your imagination so you can create, invent, and learn! Let us know if you've tried out any of these fun projects, activities, or experiments by using this hashtag on social media: #BucksCountyFreeLibrary.
— Nicole S., Youth Services Librarian