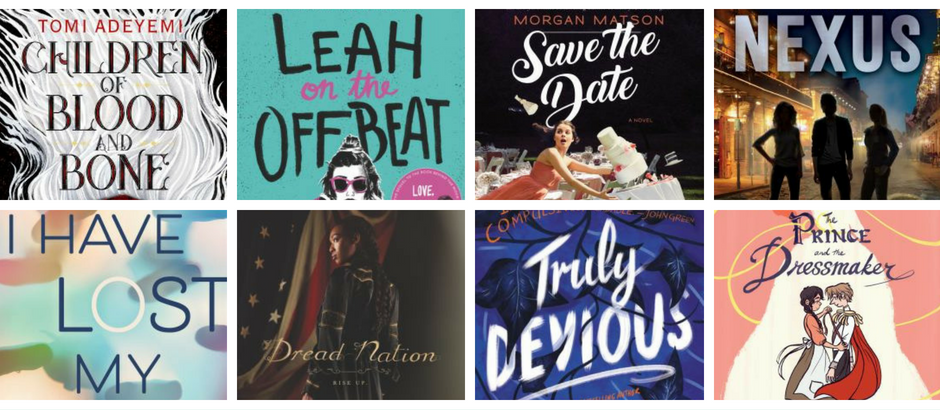 It's no secret that lots of adults enjoy reading Young Adult (YA) novels. If that includes you, check out these YA titles recommended by our Collection Management Director.
Children of Blood and Bone by Tomi Adeyemi
Zelie Adebola remembers when the soil hummed with magic and her Reaper mother summoned forth souls. Now that has disappeared under orders from a ruthless king, who killed Zelie's mother and other maji and left his people oppressed and hopeless. But Zelie still has the fire burning inside and has one chance to strike against the monarchy with the help of a rogue princess while outrunning the crown prince, who will stop at nothing to eradicate magic for good.
Nexus (Zeroes 3) by Scott Westerfeld, Margo Lanagan, and Deborah Biancotti
If you haven't started this action packed series, now you can binge read the whole trilogy. The Zeroes are superheroes and each has an amazing power. In this final volume they must learn to trust one another and combine their powers for good and prevent a looming disaster.
I Have Lost My Way by Gayle Forman
The paths of three teens are about to collide in New York City. When a fateful accident brings them together, can these three understand that finding their own way back can lie in helping each other?
Truly Devious by Maureen Johnson
One of the greatest unsolved murders in American history happened at Ellingham Academy in the early 20th century. Ellingham Academy was a new school where the best and brightest are accepted and learning is a game. Everything changes at the school when "Truly Devious" kidnaps the wife and daughter of the school's founder, Albert Ellingham. Enter the present day and true crime aficionado Stevie Bell is entering her first year at Ellingham with a creative plan to solve this mystery where others have failed.
Dread Nation by Justina Ireland
The Civil War ends when the dead begin to rise in this alternate history. Jane has training at a special mandatory combat school for native and African American children, learning to fight dead and save the lives of the wealthy.
Prince and the Dressmaker by Jen Wang
Prince Sebastian has a secret. At night he puts on daring dresses and goes out in public dressed as the fashionable Lady Crystallia. Sebastian's secret weapon is dressmaker Frances, who dreams of designing dresses but puts her dreams on hold to protect Frances. How long can Sebastian and Frances's dreams remain a secret as the King and Queen search for a bride for Sebastian.
Royals by Rachel Hawkins
If you are experiencing some "Royal Withdrawal" after the latest royal wedding, this book just may help. Daisy Winters' life is upended when her perfect older sister gets engaged to Prince Alex of Scotland, and Daisy is whisked away to learn how to behave properly in the royal family.
Save the Date by Morgan Matson
Charlie's sister is getting married which means all her sibling will return home for one last weekend before her parents sell the house. She is looking forward to one perfect weekend and not surprisingly, the weekend has many surprises for Charlie about her family. And she will realize that sometimes, trying to keep everything like is was in the past means missing out on the future.
Leah on the Offbeat by Becky Albertalli
In this sequel to Simon vs. the Homo Sapiens Agenda (the movie Love, Simon was based on this book), Simon's BFF Leah is the star in this book as she navigates her senior year with changing friendships and a fist love.
Books recommended by Holly A., Collection Management Director