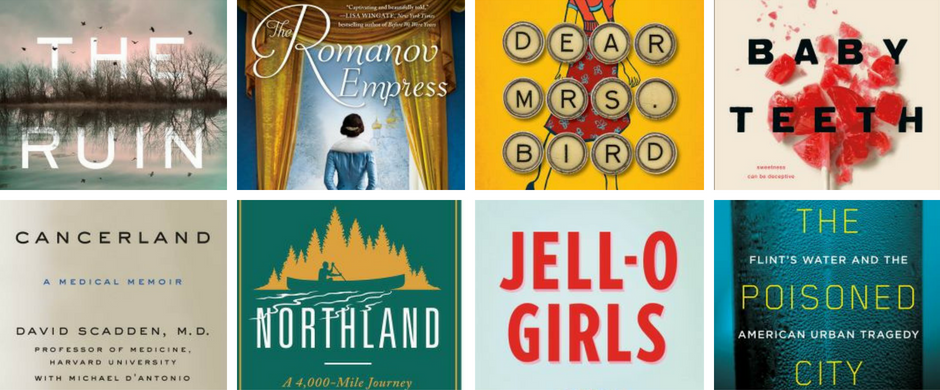 Our August Recommended Reads for adults take you around the world with stops in present-day Canada, pre-revolutionary Russia, WWII London, an aging cruise ship, cancer research labs, kitchens full of Jell-o, and more.
FICTION
Dear Mrs. Bird by A.J. Pearce
We've seen the plucky heroine keeping a stiff upper lip and carrying on during adversity before, but Miss Emmeline Lake is different. The novel, set in London during the Blitz, has our heroine dreaming of becoming a journalist and volunteering evenings at the local firehouse call center during air raids, while her fiancé Edward is off fighting Hitler.
Emmy applies for a job at The London Evening Chronicle, imagining that her life-long dream of becoming a journalist is finally on its way. But instead of a by-line she finds that she was day dreaming during the interview and instead of becoming an intrepid reporter, she is to be a junior typist for Mrs. Henrietta Bird, a Dear Abby-type columnist of a women's magazine. Wishing to avoid any unpleasantness, however, Mrs. Bird answers only the most mundane of letters, giving unhelpful advice. Mrs. Bird even maintains a list of "Topics That Will Not Be Published Or Responded To By Mrs. Bird … not exclusive and will be added to when required." All the letters with real problems go into the rubbish bin.
After an upsetting telegram from Edward, Emmy finds herself moved by her correspondents' troubles, whose letters are being discarded, and she begins retrieving them from the trash, answering them privately herself…and signing Mrs. Bird's name to them. It seems to be a small offense in the context of WWII, as London has so many more important things to worry about. As Emmy continues to sort through the discarded letters, she finds that unlike Mrs. Bird, she can provide hope to some in the midst of a very dark time.
Fans of Jojo Moyes will enjoy Pearce's debut with a dauntless heroine and a fresh portrait of women's lives in wartime Britain.
Baby Teeth by Zoje Stage
This is a debut novel that has been compared to "The Omen" meets "We Need to Talk About Kevin" meets "Gone Girl." In this creepy story, seven-year-old Hannah connives to kill her mother so that she can have daddy all to herself.
Stay at home mom Suzette had longed for a little girl she could dote on. Instead, from birth, Hannah has been emotionally detached and silent. Suzette and Alex come to accept that her moods are something she will outgrow. But that is not to be. Hannah has been expelled from several pre-schools and kindergarten, forcing Suzette to home school her. During the day, when Hannah is alone with Suzette, she is destructive, vindictive, and increasingly violent. When Alex is around, Hannah is all smiles and hugs. The book portrays the escalating tensions among all three characters with chapters told alternately by Suzette and Hannah and gives us an insight into the mind of a developing sociopath.
Nurture or nature? Stage's deviously fun novel takes child-rearing anxiety to demented new heights! A psychological nail-biter.
The Romanov Empress: A novel of Tsarina Maria Feodorovna by C. W. Gortner
This is one for historical fiction fans, especially for those who like their fiction about royalty. Gortner has written other historical fiction about royalty including the Tudors, the Medici, the Borgias, and even American royalty, Marlene Dietrich. This summer marks the 100th anniversary of the execution of the Russian royal family and Gortner's new book explores the climate that lead up to the massacre through the eyes of Maria Feodorovna, the wife of Tsar Alexander II and mother to Tsar Nicholas III.
If there were ever a cautionary tale about the disasters of patriarchy and inequality of the masses, the tale of the Romanovs is it. Focused on the later years of the Romanov dynasty, Maria Feodorovna has a unique view of the political climate in Europe at the turn of the twentieth century. Born in 1847 to a royal but impoverished family in Denmark, she embraces a new religion, a new language, and a new land in order to wed the heir to the Russian throne. When he unexpectedly dies before the wedding, she marries his younger brother, Alexander. Assassinations, affairs, exiles, and illnesses take their toll on the royal family's ability to govern a changing Russia in a rapidly changing world. Maria Feodorovna presents us with an insider's view of these events.
The Last Cruise by Kate Christensen
Although set in the present day, this book harkens back to an earlier, more care-free time.
Christensen's novel takes place on the last voyage of a once grand ocean liner from that time which is sailing on a two week cruise from Los Angeles to Hawaii, before heading to the scrapyard. Everything about the cruise is to be 'retro': the menu (aspic anyone?), dressing for dinner, classic cocktails, cabaret singers, string quartets, old movies, and baccarat in the casino. There is no Internet service and no one under the age of sixteen is permitted. And that's just above deck; below deck tensions simmer among the crew, while in the engine room, with its aging equipment, crises ricochet from one to another, each worse than the last.
PEN/Faulkner Award winner Christensen populates the ship's manifest with interesting characters and their stories. Christine, a farmer from Maine, is eager to take a break from her semi-happy marriage. Miriam is a violinist with the string quartet hired to entertain the passengers, but things are complicated with her ex-husband, also one of the four musicians, and a third member, a man on whom she has a crush. Mick, a gruff Hungarian, is the chef who is stuck in both a relationship and a career that are going nowhere. Christensen's development of the main characters and half a dozen secondary characters is superb. Despite the attempt to harken back to a sunnier decade, Christensen doesn't disguise the fact that the cruise is taking place in a fractured society on a disintegrating planet. What begins as a casual romp quickly heads into darker territory.
This book is an excellent blend of beach reading and literary fiction.
The Ruin by Dervla McTiernan
It's been twenty years since Cormac Reilly discovered the body of Hilaria Blake in her crumbling Georgian home, but he's never forgotten the two children she left behind, Jack and Maude. Now, in 2013, the case comes back to Reilly as he investigates Jack's suicide and Maude's strange behavior. Jack's partner, Aisling, does not believe that Jack has committed suicide, and undertakes her own investigation with urging from Maude. As Reilly investigates, he finds that there are secrets in Jack's past that indicate that the original crime is connected to a tangled web of other crimes.
There is a strong sense of place as the story weaves through the rainy Irish landscape, and McTierman pens an intricate story of impossible decisions, family bonds, and police politics. Everything comes together neatly in a suspenseful conclusion. For fans of Tana French's Dublin Murder Squad series and Ruth Ware's "The Lying Game."
NONFICTION
Northland: A 4,000-mile Journey Along America's Forgotten Border by Porter Fox
We are well aware of the Southern border of the U.S., but most of us have little idea of our Northern border. Yet the U.S.-Canadian border holds this distinction, according to Fox: "the only known terrorists to cross overland into the U.S. came from the north. Fifty-six billion dollars in smuggled drugs and ten thousand illegal aliens cross the U.S.-Canadian border every year."
The Northern border, known as the Northland, is more than twice as long as the Southern border but is patrolled and guarded by nine times fewer guards than the Southern border. It is the busiest international border in the world and is the third longest. If you add Alaska, it is the longest international border on earth.
Following in the footsteps of pre-Columbus Native Americans, European explorers, mountain men, and 18th century surveyors, Fox's book is more ruminative than eventful. It took Fox three years to transverse the border, so there is a lot of time to be contemplative. He has a keen eye for flora, fauna, geology, and meteorology (North Dakota is equidistant between the North Pole and the equator, making it "the most extreme weather zone in the world").
He looks at the people who have lived on both sides of the border since the beginning and those who live there now. The vast majority of Canadians live along the border, but only a very small percentage of U.S. citizens live there year around. "Northlanders have little interest in the rest of the Union, and the rest of the Union has little interest in the Northern fringe." Fox's travels uncover and explore how this largely ignored border is the key to the U.S. economy, because it is home to an abundance of water, oil, timber, and natural gas, and it will become even more important as America's more easily accessible natural resources become depleted.
Fox's book is a worthy travelogue that explores the beauty of American's untouched land.
The Jell-O Girls: A Family History by Allie Rowbottom
Ubiquitous, many-hued Jell-O — love it or loathe it. There's probably not a person in the U.S. who doesn't know the brand name or who hasn't eaten it at least once in his life. After reading this book, you'll not think of it as bland ever again.
In 1899, Rowbottom's great-great-great uncle bought the patent for Jell-O from its inventor for $450. Ever since then, her family has endured a sadly high rate of suicides, alcoholism, cancer, and other inexplicable illnesses. Rowbottom draws on family archives to write a memoir exploring the family curse: "The curse was patriarchy." As the family reaped financial gains by stocking cupboards across America with Jell-O, they experienced a continuing string of misfortunes, particularly the women. Rowbottom's mother, Mary, blamed her poor health on the family business and she "rarely ate the stuff."
In another interesting thread, Rowbottom traces the marketing of Jell-O throughout the years from the early campaigns that touted it as a quick and easy dessert for women who found themselves alone in the kitchen without household help at the turn of the century, through the nation's blossoming obsession with low-cal foods and finally, as sales began to flag, as a nostalgia food. At the same time, she explores how the women in her family negotiated the social constructs of the times that these ads reinforced. Her memoir offers a fascinating feminist history of both a company and a family.
Cancerland: A Medical Memoir by David T. Scadden, M.D. and Michael D'Antonio
A top oncologist discusses the latest breakthroughs in the war on cancer and explores the ongoing challenges of the disease. Dr. Scadden, writing his memoir with Pulitzer Prize-winning journalist Michael D'Antonio, tells the story of how cancer science has progressed in the age of cell biology, still a rapidly changing landscape. Scadden, co-founder of the Harvard Stem Cell Institute, is one of the world's leading experts on immunology and has been at the forefront of the search for cures.
Using stories of loss and hope, Scadden writes with authority that cancer is an "immutable fact of life." When Scadden was growing up in the fifties, he was confused and traumatized by the cancer deaths of people he knew. As a medical student he encountered his first patient cases and began his career of medical precision and compassionate humanity. He shares real life stories of his patients as a student earning a real-world education.
His account of the personal pain he experienced watching his own parents navigate cancer treatments leads to a probing discussion on how far early therapies have evolved. He is personally responsible for numerous medical breakthroughs, especially through bone marrow stem cell research. He reminds readers that the days of scant hope are gone and the promise of modern technology is making cancer a disease "that changes people's lives, but is something they can speak of in the past tense."
The Poisoned City: Flint's Water and the American Urban Tragedy by Anna Clark
When the people of Flint, Michigan, turned on their faucets in April 2014, the water pouring out was poisoned with lead and other toxins. Through a series of disastrous decisions, the state government had switched the city's water supply to a source that corroded Flint's aging lead pipes.
There are heroes and villains here and blame enough for almost everyone. Drawing on existing and original reporting, emails, and interviews, Clark expertly traces this complex tragedy from the reckless decisions by city and state officials that lead to the poisoning, the trust placed in insufficient treatment programs, the failure to acknowledge the residents' complaints, and the repeated cover-ups. The heroes are a persistent engineer, a journalist, a doctor, and NPR's Michigan Radio. The villains are a cadre of "buck-passing and turf-guarding" officials who for eighteen months ignored all complaints and dodged all responsibility.
Clark warns that many of the things uncovered in the Flint investigation apply to other cities in America. This is a cautionary tale for many American cities and their aging infrastructures. It is a premonitory narrative of urban neglect and indifference.
Blood & Ivy: The 1849 Murder That Scandalized Harvard by Paul Collins
"Mesmerizing….A fine mixture of true crime, historical exposition, and class conflict in mid-19th-century American history." — Publishers Weekly.
This is a true crime drama of the doings of the upper-crust at America's most prestigious university medical school during the mid-nineteenth century.
On November 23, 1849, the esteemed Dr. George Parkman went missing. He was a well-known lecturer at Harvard Medical School in the relatively new science of medicine. He was also a real estate mogul and although he was last seen entering the medical school that fateful day, he was known to spend much of his time collecting rent from the many properties that he owned in Boston. Naturally, foul play was suspected. His disappearance galvanized the Boston police and the general population, largely because there was a large reward offered for his body.
His dismembered body was eventually found in the lab of a distinguished chemistry professor, John White Webster, who was in a great deal of debt. Webster was eventually tried, convicted, and hanged for the crime in one of America's most infamous trials. A baffling case filled with red herrings, Harvard's greatest doctors investigating one of their own, and a building full of cadavers, it became a landmark case in the use of medical forensics and the meaning of reasonable doubt. Using newspaper accounts, letters, journals, and memoirs of the case, Collins brings to life nineteenth century Boston.
Books recommended by Regina S., Collection Management Specialist