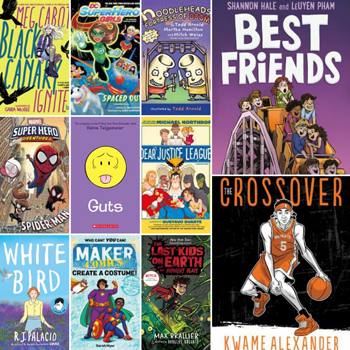 Explore your favorite superheroes, make your own costume, read a Wonder or Crossover story in comics, and show some Guts with Raina Telgemeier's latest. When it comes to graphic novels, the possibilities are endless! Check out these books by your favorite authors and experience epic adventures staring your favorite characters and more!
Black Canary Ignite by Meg Cabot
Thirteen-year-old Dinah Lance knows exactly what she wants, who she is, and where she's going. When a mysterious figure keeps getting in the way of Dinah's goals and threatens her friends and family, she'll learn more about herself, her mother's secret past, and navigating the various power chords of life. This book is an inspirational story that encourages readers to find their own special voices to sing along with Black Canary!
Best Friends by Shannon Hale & LeUyen Pham
Bestselling creators of Real Friends, Shannon Hale and LeUyen Pham are back with a true story about popularity, first crushes, and finding your own path.
The Crossover by Kwame Alexander
Kwame Alexander's New York Times Bestseller and Newbery Medal winning The Crossover is vividly brought to life as a graphic novel with stunning illustrations. See the Bell family in a whole new light as the brothers' winning season unfolds, and the world as they know it begins to change.
DC Super Hero Girls: Spaced Out by Shea Fontana
There's a new student at Super Hero High, and she's about to take some of her new friends on an out-of-this-world mission!
Dear Justice League by Michael Northrop
Does Superman ever make mistakes? Does Wonder Woman have to listen to her parents? Does Aquaman smell like fish? In this new middle grade graphic novel series, the greatest heroes in the DC Comics Universe, the Justice League, answer mail from their biggest fans–kids!
Noodleheads: Fortress of Doom by Tedd Arnold
The Noodlehead brothers are back from the library with a joke book, a fantasy novel, and a dream: to build their very own Fortress of Doom. They can achieve this goal if they can stop bickering and defend it from their wily friend Meatball. Jump right in with this fourth title in an easy-to-read graphic novel series about more than two hollow pastas trying to have fun.
Guts by Raina Telgemeier
From the author of bestselling and award-winning Smile, Raina Telgemeier once again brings us a thoughtful, charming, and funny true story about growing up and gathering the courage to face and conquer fears.
The Last Kids on Earth and the Midnight Blade by Max Brallier
Soon to be a Netflix Original series! Surviving their first winter after the Monster Apocalypse was no easy feat, yet Jack and his buddies waste no time springing to action against some of the nastiest, most evil monsters around. When an unexpected villain appears, can Jack and his friends save themselves–and the rest of the world–from cosmic domination?
Maker Comics: Create a Costume! by Sarah Myer
With Maker Comics: Create a Costume! you can create fun, easy, budget-friendly costumes. You don't have to start from scratch; a few simple modifications can transform thrift store clothes into a variety of costumes. Even mastering the sewing machine isn't as hard as it looks! You can make amazing costumes—all you need are the right tools, a little know-how, and a lot of imagination. This book will show you how!
Marvel Super Hero Adventures Spider-Man by Daniel Kibblesmith
It's a Spider-tacular adventure when Spider-Man is visited by his fellow web-slingers! What wall-crawling, web-swinging trouble will Peter Parker get into when he's joined by Anya Corazon, Miles Morales and Spider-Gwen? There's only one way to find out!
White Bird: A Wonder Story by R. J. Palacio
Inspired by her blockbuster phenomenon Wonder, R. J. Palacio makes her graphic novel debut with an unforgettable story of the power of kindness and unrelenting courage in a time of war. White Bird is sure to captivate anyone who was moved by the book or the blockbuster movie adaptation and its message.
— Recommended by Kathleen L., Collection Management Librarian