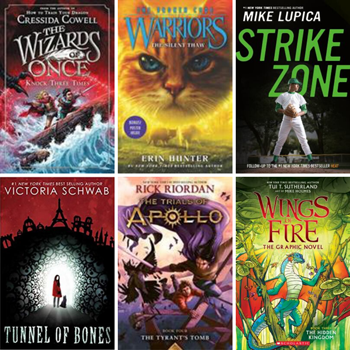 Have you been waiting on the edge of your seat for the next book in your favorite bestselling book series? Check out these noteworthy juvenile sequels that are on our shelves. All titles are also available digitally in cloudLibrary.
The Hidden Kingdom: A Graphix Book by Tui Sutherland
The Wings of Fire series soars to new heights in this third graphic novel adaptation! Glory and the dragonets are determined to find the missing dragons, even if it drags the peaceful RainWing kingdom where they never wanted to be — into the middle of the war.
Knock Three Times by Cressida Cowell
From the author who brought us How to Train Your Dragon comes the third book in her Wizards of Once series. Xar and Wish are heroes with a huge task ahead–confronting the Nuckalavee is not for the faint hearted. But with Magic and Iron together, they might just have a chance of saving their beloved homes from those who seek to destroy everything they hold dear.
The Silent Thaw by Erin Hunter
The Warriors series continues! Discover more epic adventures in the second book of this action-packed Broken Code story. Packed with action and intrigue, this sixth Warriors series is the perfect introduction for readers new to the Warriors world, while dedicated fans will be thrilled to discover the new adventures that unfold after the events of A Vision of Shadows series.
Strike Zone by Mike Lupica
This book is a timely and heartfelt follow-up to Heat, about a young baseball prodigy and his immigrant family living in today's America. When twelve-year-old star Little League pitcher Nick Garcia notices a mysterious man lurking on his street corner, he senses a threat. Suddenly, his worst fears are realized, and just when it seems there's no one to trust, an unexpected hero emerges and changes everything.
Tunnel of Bones by Victoria Schwab
Victoria Schwab returns to the spooky and heart-pounding world of City of Ghosts, delivering thrilling new adventures and an unforgettable spin on friendship. Because sometimes, even psychic ghost best friends have secrets.
The Tyrant's Tomb by Rick Riordan
Rick Riordan brings us the next highly anticipated book in his Trials of Apollo series. It's not easy being Apollo, especially when you've been turned into a human and banished from Olympus. On his path to restoring five ancient oracles and reclaiming his godly powers, Apollo has faced both triumphs and tragedies. Unfortunately, the answer to salvation lies in the forgotten tomb of a Roman ruler, who is someone much worse than the emperors Apollo has already faced.
— Recommended by Kathleen L., Collection Management Librarian