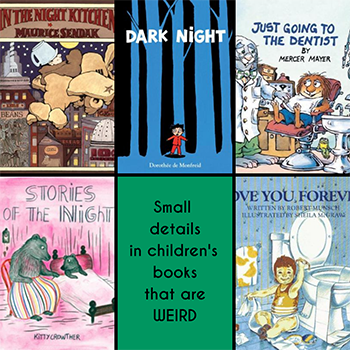 There are so many wonderful children's books out there, many of which we read ourselves when we were younger. It's a wonderful experience to be able to read a book that you adored as a child to your own children.
Let's face it though – some books don't age too well. Sometimes the jokes are no longer funny, and sometimes things that aren't intended to be funny are now hilarious. Enjoy the following list of books that have made me raise my eyebrows or laugh out loud for one reason or another.
In the Night Kitchen by Maurice Sendak
This classic children's book was controversial when it came out and is still controversial today. Why does the protagonist, Mickey, fall out of his clothes when he falls out of bed? Sendak never explained this choice, which is why "The Night Kitchen" is on this list.
Dark Night by Dorothée de Monfreid
My own kids adore this book, but even my six-year-old son has wondered aloud why the little boy is wandering alone in a dark forest at night. Children's books often have weird plots, but having a small child be alone outside at night is particularly strange. Don't get me started about Linus in "It's The Great Pumpkin, Charlie Brown" sleeping alone in a pumpkin patch.
Just Going to the Dentist by Mercer Mayer
The Little Critter books were a huge favorite of mine as a kid. But in this book Little Critter gets a lollipop at the end of his dentist visit. UM WHAT? Why in the world would a dentist give his patient a lollipop at the end of the visit? Unless he's trying to ensure he has future business…
Stories of the Night by Kitty Crowther
"A rare, precious dream of a book," is the quote from Meg Rosoff on the cover of this book. Sorry Meg, I disagree. Rare, perhaps… but precious dream? Not so much.
While creatively illustrated, this newly released book feels like a psychedelic trip – which isn't helped by the amount of mushrooms in the illustrations. Some people might love this book, but the highly random storyline and entirely pink color scheme landed this book on my list of strange and weird children's books.
Love You Forever by Robert Munsch
This beloved classic book starts off charmingly enough, but ends with a grown man's mother crawling through his second floor window to rock him to sleep. While people do adore the sweet message of the book, that imagery brings to mind a certain Alfred Hitchcock movie that leaves me a tad uncomfortable, making it number five on my list.
Are there any particularly weird books that you remember reading as a kid? Or thought were strange while reading them to your children? Let us know!
— Written by Elizabeth D., Programming Assistant, Children's Services