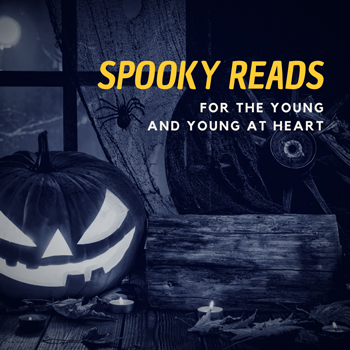 Does the crisp October air have you and your kids hankering for some spooky reads? Do you long to stretch your skeleton out on the couch with a cup of your favorite ghoulish hot beverage and page through a chilling tale? Have your little ghosts and werewolves been pestering you for creepy, kooky, mysterious, and spooky books this season?
Then it's your monstrously lucky day – put these on your hold list and prepare to be scared!
Ghost Squad by Claribel A. Ortega
Shortly before Halloween, Lucely and her best friend, Syd, cast a spell that accidentally awakens malicious spirits, wreaking havoc throughout St. Augustine. Together, they must join forces with Syd's witch grandmother, Babette, and her tubby tabby, Chunk, to fight the haunting head-on and reverse the curse to save the town and Lucely's firefly spirits before it's too late.
Eerie Elementary Series by Jack Chabert
Sam Graves discovers that his elementary school is ALIVE! Sam finds this out on his first day as the school hall monitor. Sam must defend himself and his fellow students against the evil school! Is Sam up to the challenge? He'll find out soon enough!
Spirit Hunters by Ellen Oh
Harper doesn't trust her new home from the moment she steps inside, and the rumors are that the Raine family's new house is haunted. Harper isn't sure she believes those rumors, until her younger brother, Michael, starts acting strangely. Will she figure things out in time? A riveting ghost story and captivating adventure, this tale will have you guessing at every turn!
Goosebumps Series by R.L. Stine
Reader beware – you're in for a scare! These classic spooky, icky, and sometimes hilarious stories are guaranteed to chill you to your very bones.
Bunnicula by James and Deborah Howe
Harold the dog and Chester the cat must find out the truth about the newest pet in the Monroe household—a suspicious-looking bunny with unusual habits…and fangs! Could this innocent-seeming rabbit actually be a vampire?
The House with a Clock in Its Walls by John Bellairs
When Lewis Barnavelt, an orphan, comes to stay with his Uncle Jonathan, he expects to meet an ordinary person. But he is wrong. Uncle Jonathan and his next-door neighbor, Mrs. Zimmermann, are both witches… and there's a clock in the walls that could obliterate human kind!
I Want to Be in a Scary Story by Sean Taylor and Jean Jullien
Our author would like to write a funny story, but his main character — Monster — has a different idea. He wants to be the star of a chilling, petrifying, utterly terrifying SCARY story. But scary stories . . . well, they can be very scary — especially for their characters! Join Monster in this charming and at least slightly scary picture book.
Scary Stories for Young Foxes by Christian McKay Heidicker
When Mia and Uly are separated from their litters, they discover a dangerous world full of monsters. In order to find a den to call home, they must venture through field and forest, facing unspeakable things that dwell in the darkness: a zombie who hungers for their flesh, a witch who tries to steal their skins, a ghost who hunts them through the snow . . . and other things too scary to mention.
Monster Trouble by Lane Fredrickson, illustrated by Michael Robertson
Nothing frightens Winifred Schnitzel—but she DOES need her sleep, and the neighborhood monsters WON'T let her be! Every night they sneak in, growling and belching and making a ruckus. Winifred constructs clever traps, but nothing stops these crafty creatures. What's a girl to do? (Hint: Monsters HATE kisses!) The delightfully sweet ending will have every kid—and little monster—begging for an encore.
The Witches: The Graphic Novel by Roald Dahl, adapted by Pénélope Bagieu
Witches are real, and they are very, very dangerous. They wear ordinary clothes and have ordinary jobs, living in ordinary towns all across the world — and there's nothing they despise more than children. This graphic novel adaptation of the classic Dahl tale will leave you breathless!
The Puppet's Payback and Other Chilling Tales by Mary Downing Hahn
Each tale in this "scary but not too scary" short story collection turns something ordinary—a pigeon, a white dress, a stranger on the bus, a puppet—into a sinister link to the supernatural. Prepare to be scared!
— Michelle K., Youth Services Librarian