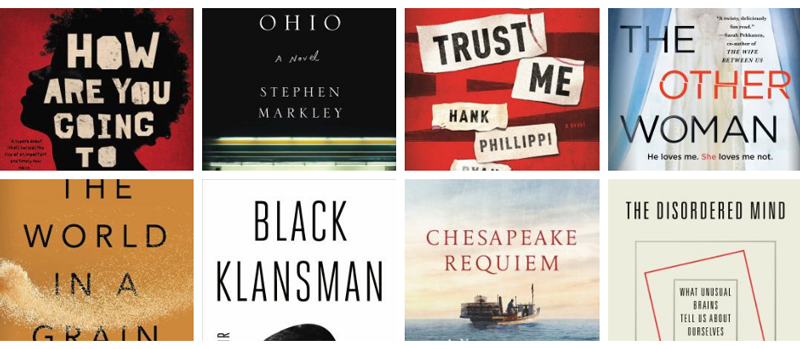 When the leaves turn, and the weather grows cooler, it's the perfect time to turn the pages of a new book. These recommended reads let you lose yourself in fictional worlds or become immersed in fascinating nonfiction narratives.
FICTION
Ohio by Stephen Markley
It began with the economic devastation of cities and towns of the Rust Belt, and the housing crisis sparked by the Great Recession of 2007, and accelerated with news of thousands of deaths annually from drug overdoses.
It's 2013, and four former classmates return to overburdened small-town New Canaan, Ohio. Their dreams shattered, their lives stunted, they are a decade removed from high school graduation. Each is there to deal with some difficult and painful unfinished business. Structured in four novella-like sections, the novel unfolds over the course of a single night.
Bill Ashcroft, a political activist who finds his activism has foundered as a result of an intemperate tweet, is carrying a mysterious package from New Orleans in order to earn $2,000. Stacey Moore, a graduate student in literature, comes home for an encounter with the mother of her high school lover, Lisa Han, who has been missing since graduation. Dan Eaton, a veteran of multiple tours in Iraq and Afghanistan, has lost an eye in combat, and returns to visit a former girlfriend. And Tina Ross, who has never made it farther away than a nearby town where she works at Walmart, is back to avenge a terrible wrong inflicted on her.
This is a dark and deeply felt examination of a generation confronting problems that cannot be solved quickly or with ease, a bleak but honest survey of a segment of 21st century America.
How Are You Going to Save Yourself by J. M. Holmes
In this series of linked stories Holmes clarifies what it's like to be young, black and male in America today. Narrated by Dub, Rolls, Rye, and Gio, these stories follow four young men from Pawtucket, Rhode Island as they struggle to free themselves from the legacies of being a black man in America and grow into adulthood.
Only Gio, a mixed race young man whose father was once an NFL star, but whose money is now almost gone, seems to have any prospects. He is able to attend an Ivy League college and graduate with a degree but squanders most of his money. Rolls, son of a photography store owner, has some success as a painter and is able to sell some of his work. Rye, facing his unfulfilled dreams of an NFL career, eventually becomes a drug dealer and firefighter and is severely injured fighting his first fire. Dub has the most trouble finding his way out, moving aimlessly from job to job, dealing with feelings of envy and resentment as his girlfriend finds some successes in her life.
The stories are by turns comedic, bawdy, heart-breaking, and grisly as these four young men face their demons.
The Other Woman by Sandie Jones
When Emily encounters Adam in a crowded London bar, the attraction is instantaneous and mutual. As the relationship moves forward, the other woman enters the picture. Her name is Pammie and she is Adam's mother. Pammie takes an immediate dislike to Emily and begins her campaign of criticizing, belittling, and undermining Emily at every turn. But she is crafty about it, only doing so when the women are alone and Adam is absent. Emily doesn't feel she can confide in Adam as he believes his mother to be a saint. As the passive-aggressive schemes accelerate, Emily realizes that Pammie actually could be dangerous and that things may not end well.
Things with Pammie eventually come to a spectacular head, and Emily realizes that Adam may not be as perfect as she has assumed. Readers will root for Emily to put Pammie in her place and smack Adam for not standing up for her. Jones ratchets up the tension and throws a curveball that will make the reader's head spin. A smashing debut novel.
Trust Me by Hank Phillippi Ryan
Who can you trust and who can you not trust? Mercer Hennessey is a journalist who put her career on hold to raise her daughter. But 442 days ago, her husband and three year old daughter were both killed in a car accident, and she has since has become a recluse, seldom leaving her house. She knows it's been 442 days because she keeps track of the days since the accident in the fog on the bathroom mirror after her morning shower. Every day remains a struggle.
Then her former editor calls with a proposition. There is a current murder trial of a mother, Ashlyn, accused of killing her two year old daughter. Her tiny body has washed up in Boston harbor sealed in a duct taped garbage bag. The case has gripped the nation and everyone knows Ashlyn is guilty, even as she proclaims her innocence. Mercer will have access to the courtroom feed that all news organizations will see. If after the verdict is rendered, Mercer can get together a book about the trial that she has followed, it's sure to be a best-seller. Knowing that she would give anything to have her own daughter back again, how can Mercer not write about this murderous mother?
But as she watches the courtroom drama, Mercer begins to ask questions, and the deeper she digs, the more she finds her convictions challenged. Ashlyn is found not guilty, and Mercer must write a redemption story instead of the one she had originally planned. As she spends time with Ashlyn, she begins to wonder whether Ashlyn is really not guilty of the murder. Sinister twists bring this story to a satisfying conclusion and cast a revealing light on media sensationalism, ethics in journalism, and the nature of truth and who gets to define it.
Give Me Your Hand by Megan Abbott
Kit harbors only modest ambitions for herself, until the mysterious Diane appears in her high school chemistry class. Diane's brilliance ignites a competitive fire in Kit, and they become best friends as well as academic leaders in the school. Then Diane tells Kit a secret, "the worst thing anyone has ever told me," that changes everything about their friendship.
After graduation Kit and Diane go their separate ways, only to meet again a decade later after Kit has successfully put Diane behind her. Kit, working in the distinguished Dr. Severin's lab and eligible for one of a few prestigious research grants, learns that Dr. Severin has recruited a rising star — Diane. Once more Kit and Diane are locked in combat, now with the weight of Diane's secret between them and the possibility that Kit will tell.
In addition, as the only two women competing for the place on the team, they must deal with the misogyny of the men in the lab. Instead of this shared problem that might have united them, Diane's secret bubbles to the surface, lives are lost and the future is put in doubt in the rush to keep the past in its place. Friendship is fused to rivalry and ambition to fear, with an unsettling level of believability.
NONFICTION
The World in a Grain: The Story of Sand and How It Transformed Civilization by Vince Beiser
We here in Bucks County live within an hour or two of New Jersey's 140 miles of coastline, ranging from Perth Amboy to Cape May. Have you visited a beach this summer? Then you've shaken sand, the humble stuff of beaches and dunes, out of towels and washed it from between your toes. Vacations aside, Beiser argues that sand, with its extraordinary range of properties, including durability and pliancy, is "the most important solid substance on earth… that makes modern life possible."
Sand is indispensable globally, the "literal foundation of modern civilization." In addition to providing coastal beaches, it is used to make concrete, without which we would have no buildings or roads. As Beiser emphasizes: "Concrete is an invention as transformative as fire or electricity… Measured by the number of lives it touches, concrete is easily the most important man-made material ever invented." When nearly pure sand is melted, it becomes glass for windows and microscope lenses and eyeglasses. Special quartz sand is needed to be refined into silicone to produce chips for our computers and phones. Scarce ground sand from Wisconsin and Minnesota provides raw materials needed for the high pressure fracking of oil and gas. Major cities such as Dubai, Chicago, and Singapore have created entire neighborhoods on dredged and transported sand.
In spite of the fact that deserts abound, desert sand isn't suitable for most applications. The sand that we need for our everyday lives is becoming scarce. As with other things that grow scarce, black markets for sand have appeared. Besier explores the sand mafias that have sprung up in other countries, such as the one in a farming village south of New Delhi, whose ecosystem has been plundered by the demand for sand.
Books on a single familiar topic (Cod and Salt and Milk all by Mark Kurlansky) have a wide audience, and Beiser's book is a welcome addition to these titles. With a judicious mix of statistics, science, and on-site reporting, his book explores the extraordinary role of sand in world development and some of the future risks we face as sand becomes depleted.
The Disordered Mind: What Unusual Brains Tell Us about Ourselves by Eric R. Kandel
Eric R. Kandel, the winner of the Nobel Prize in Physiology or Medicine for his research into memory storage in the brain, is one of the pioneers of modern brain science. In this book he draws on his lifetime of work as well as the research of other groundbreaking neuroscientists to take us on an unusual tour of the brain. He confronts one of the most difficult questions we face: how does our mind, our individual sense of self, emerge from the physical matter of the brain?
Kandel explores topics such as autism, depression, bipolar disorder, schizophrenia, dementia, post-traumatic stress disorder, and addiction as they relate to brain function. Our understanding of how the brain works has advanced to such a degree that the divide between neurological and psychiatric diseases is narrowing and will in the future lead to better diagnosis, individualized treatment, and prevention. Emphasizing that studying brain disorders can yield insights into normal cognitive functioning, he looks to autism for understanding the social brain, depression and bipolar disorders to understanding the emotional brain, schizophrenia for understanding decision making, dementia for understanding memory, and Parkinson's and Huntington's disease for understanding movement. Particularly interesting is the chapter on addiction where Kandel argues that addiction is a brain disease not a moral failing.
Kandel's writing is clear and straightforward, making the information in the book accessible to all, from scientist to lay person.
Black Klansman: Race, Hate, and the Undercover Investigation of a Lifetime by Ron Stallworth
It's 1978, and Ron Stallworth joins the Colorado Springs Police Department as the first black detective on the force. The Ku Klux Klan is reasserting itself across America, and one day Ron sees an ad asking for anyone interested in the Klan to contact a PO Box. He does so, posing as a white man but using his own name. He expects to get some pamphlets in the mail but is surprised one day by a phone call to the office asking for him. He is asked a question he never thought he'd have to answer: "Would you like to join the cause?"
Ron's answer was "Yes." So begins an undercover operation that is surely one of the most audacious ever undertaken. Ron and his white partner, Chuck, agree to become one Ron Stallworth. Chuck will play the 'white' Ron Stallworth but all phone conversations will be answered by the real Ron in his own voice. During the months-long operation, Stallworth sabotages cross-burnings, exposes white supremacists in the military, and even befriends David Duke himself, the Grand Wizard.
Black Klansman is a true story that reads like a crime thriller, and is a searing portrait of a divided America. The Spike Lee movie BlacKkKlansman is based on this book.
Chesapeake Requiem: A Year with the Watermen of Vanishing Tangier Island by Earl Swift
Tiny Tangier Island lies in the Chesapeake Bay of Virginia. It is only 1.3 square miles in area but is the soft-shell crab capital of the world. Being isolated from the mainland, the tough, resilient island residents have developed their own way of living, dating back to the 17th century, including their own style of speech. The centuries old crabbing industry dictates their everyday life; everyone, even the marine police, "synchronizes their workdays to the watermen's schedule."
Tangier Island also will most likely be America's first victim of climate change. Scientists are predicting that within fifty years, the island will have succumbed to the rising tides, forcing the residents to abandon their beloved home. An area at the northernmost tip of the island already has largely disappeared. The island has shrunk from 2,163 acres as documented in 1850 to 789 acres today. At just a few feet above sea level, the island is losing 15 feet of shoreline a year. There is much at stake for the residents if the island disappears.
Journalist Swift lived on Tangier Island for a year, tracing its history, getting a firsthand look at the environmental impact on the island and getting to know the islanders. He details both the joys and difficulties of living on Tangier. New social problems have arisen on the island — drugs, alcohol (on an island still defiantly dry) and the loss of young people to the mainland. But still Swift characterizes the island as "more Norman Rockwell than real American town, with morals intact, air fresh and entertainment wholesome."
In spite of scientists citing climate change, many islanders choose to believe that topographical changes are due "solely to wind-driven waves, not climate change." Still they fear for their future as crab fishermen. With millions of crabs swimming past the island every year, Tangier Island fishermen supply soft-shelled crabs to restaurants along the entire East coast, and whatever the cause, loss of the island will mean the loss not just of crabs but of a way of life for an indigenous people. Swift captures the people's frustration with the government bureaucracy, noting that "It will take a miracle for the Army Corps of Engineers and Congress to act before a storm muscles up the bay and renders the whole thing moot."
Books recommended by Regina S., Collection Management Specialist