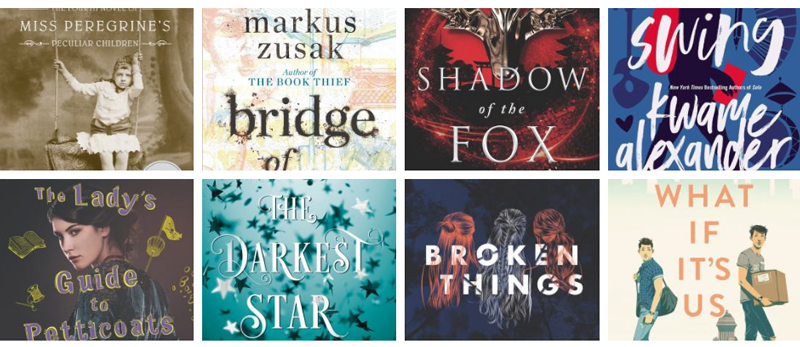 If you've been waiting for your favorite YA author to come out with a new book, you're in luck. Here are ten new YA books arriving this fall — authors include Markus Zusak (The Book Thief), Ransom Riggs (Miss Peregrine's Peculiar Children), and Kwame Alexander (The Crossover).
Bridge of Clay by Markus Zusak
From the author who gave us the extraordinary bestseller The Book Thief, comes the breathtaking story of five brothers who bring each other up in a world run by their own rules. As the Dunbar boys love and fight and learn to reckon with the adult world, they discover the moving secret behind their father's disappearance. At the center of the Dunbar family is Clay, a boy who will build a bridge—for his family, for his past, for greatness, for his sins, for a miracle. The question is, how far is Clay willing to go and how much can he overcome?
Broken Things by Lauren Oliver
It's been five years since Summer Marks was brutally murdered in the woods. Everyone thinks Mia and Brynn killed their best friend. The only thing is: they didn't do it. Five years later on the anniversary of Summer's death, a seemingly insignificant discovery resurrects the mystery and pulls Mia and Brynn back together once again. But as the lines begin to blur between past and present and fiction and reality, the girls must confront what really happened in the woods all those years ago, no matter how monstrous the truth may be.
The Darkest Star by Jennifer L. Armentrout
Armentrout brings her trademark drama and intrigue to a new romantic YA science fiction series. A girl pulled into in a world she doesn't understand finds herself confronted by long buried secrets and a betrayal that could tear her life apart. In this world of the Lux, secrets thrive, lies shatter, and love is undeniable.
The Lady's Guide to Petticoats and Piracy by Mackenzi Lee
In this highly anticipated sequel to the bestselling The Gentleman's Guide to Vice and Virtue, Felicity Montague must use all her womanly wits and wiles to achieve her dreams of becoming a doctor, even if she has to scheme her way across Europe to do it.
A Map of Days (Miss Peregrine's Peculiar Children, #4) by Ransom Riggs
This bestselling series returns with a thrilling new story set in America. Having defeated the monstrous threat that nearly destroyed the peculiar world, Jacob Portman is back where his story began, in Florida. Except now Miss Peregrine, Emma, and their peculiar friends are with him, and doing their best to blend in. New wonders and dangers await in this brilliant next chapter for Miss Peregrine's peculiar children. Their story is again illustrated throughout by haunting vintage photographs, but with a striking addition for this all-new, multi-era American adventure, in full color.
Muse of Nightmares (Strange the Dreamer, #2) by Laini Taylor
In the wake of tragedy, neither Lazlo nor Sarai are who they were before. One a god, the other a ghost, they struggle to grasp the new boundaries of their selves as dark-minded Minya holds them hostage, intent on vengeance against Weep. Lazlo faces an unthinkable choice, to save the woman he loves, or everyone else? Sarai feels more helpless than ever. But is she? Sarai, the muse of nightmares, has not yet discovered what she's capable of.
Shadow of the Fox by Julie Kagawa
New from the bestselling author of The Talon Saga and The Iron Fey. Readers will be captivated by book one of this enchanting new fantasy series. One thousand years ago, the great Kami Dragon was summoned to grant a single terrible wish and the land of Iwagoto was plunged into an age of darkness and chaos. Now, for whoever holds the Scroll of a Thousand Prayers, a new wish will be granted. A new age is about to dawn.
Swing by Kwame Alexander & Mary Rand Hess
In Swing, bestselling authors Kwame Alexander and Mary Rand Hess (Solo) present a free-verse poetic story of hope, courage and love that will speak to anyone who's struggled to find their voice and take a swing at life.
A Very Large Expanse of Sea by Tahereh Mafi
From the bestselling author of the Shatter Me series comes a powerful, heartrending contemporary novel about fear, first love, and the devastating impact of prejudice. It's 2002, a year after 9/11. It's an extremely turbulent time politically, but especially so for someone like Shirin, a sixteen-year-old Muslim girl who's tired of being stereotyped. She meets a new boy, but they seem to come from two irreconcilable worlds. Shirin has had her guard up for so long that she's not sure she'll ever be able to let it down.
What If It's Us by Becky Albertalli & Adam Silvera
Critically acclaimed and bestselling authors Becky Albertall (Simon vs. the Homo Sapiens Agenda) and Adam Silvera (They Both Die at the End) combine their talents in this smart, funny, heartfelt collaboration about two very different boys who can't decide if the universe is pushing them together or pulling them apart.
Books recommended by Kathleen L, Collection Management Librarian