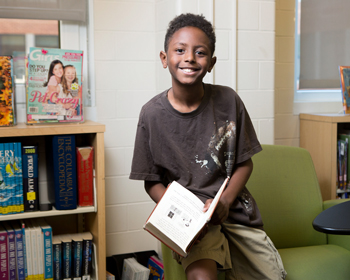 Everyone recognizes the value of reading together with young children. A quick search through the archives on the library's blog will show just how important it can be! But reading books out loud doesn't have to stop once children are reading on their own. Did you know that many older children still enjoy being read to? In fact, according to Scholastic's "Kids and Family Reading Report," 83% of kids ages 6-17 said being read to was something they loved or liked a lot!
Reading out loud to older kids can lay the groundwork for a lifelong love of reading, establish a new way to spend family bonding time, and help encourage fun generational interaction. Being read to might help kids stretch to enjoy books that are above their current reading level, or facilitate important conversation on tough topics that might normally be difficult to bring up. It can also help expand a child's vocabulary and encourage them to check out books and subjects they might not choose on their own. On top of all that, it's FUN!
So gather 'round, get comfy, and try some of these suggestions:
Juvenile Fiction
Flora and Ulysses: the Illuminated Adventures by Kate DiCamillo
The squirrel never saw the vacuum cleaner coming, but self-described cynic Flora Belle Buckman, who has read every issue of the comic book Terrible Things Can Happen to You!, is the just the right person to step in and save him. What neither can predict is that Ulysses (the squirrel) has been born anew, with powers of strength, flight, and misspelled poetry — and that Flora will be changed too, as she discovers the possibility of hope and the promise of a capacious heart.
One and Only Ivan by Katherine Applegate
This unforgettable novel from renowned author Katherine Applegate celebrates the transformative power of unexpected friendship. Inspired by the true story of a captive gorilla known as Ivan, this illustrated book is told from the point of view of Ivan himself.
The First Rule of Punk by Celia C. Pérez
There are no shortcuts to surviving your first day at a new school—you can't fix it with duct tape like you would your Chuck Taylors. On day one, twelve-year-old Malú (María Luisa, if you want to annoy her) inadvertently upsets Posada Middle School's queen bee, violates the school's dress code with her punk rock look, and disappoints her college-professor mom in the process. Her dad, who now lives a thousand miles away, says things will get better as long as she remembers the first rule of punk: be yourself.
Hello, Universe by Erin Entrada Kelly
In one day, four lives weave together in unexpected ways. Virgil Salinas is shy and kindhearted and feels out of place in his crazy-about-sports family. Valencia Somerset is deaf, smart, brave, and secretly lonely, she loves everything about nature. Kaori Tanaka is a self-proclaimed psychic, whose little sister, Gen, is always following her around. And Chet Bullens wishes the weird kids would just stop being so different so he can concentrate on basketball.
They aren't friends, at least not until Chet pulls a prank that traps Virgil and his pet guinea pig at the bottom of a well. This disaster leads Kaori, Gen, and Valencia on an epic quest to find missing Virgil. Through luck, smarts, bravery, and a little help from the universe, a rescue is performed, a bully is put in his place, and friendship blooms.
Bunnicula by James Howe
Before it's too late, Harold the dog and Chester the cat must find out the truth about the newest pet in the Monroe household — a suspicious-looking bunny with unusual habits…and fangs!
Short Stories
Funny Girl: Funniest. Stories. Ever by Betsy Bird
Funny Girl is a collection of uproarious stories, rollicking comics, rib-tickling wit, and more, from 25 of today's funniest female writers for kids.
Check Out the Library Weenies: and Other Warped and Creepy Tales by David Lubar
Don't be a weenie. Read these stories. If you dare!
Scary Stories to Tell in the Dark by Alvin Schwartz
In this collection that was the inspiration for the recent movie that shares the same title, folklorist Alvin Schwartz offers up some of the most alarming tales of horror, dark revenge, and supernatural events of all time.
This series of short story collections featuring the work of award-winning authors like Jon Scieszka, Jeff Kinney, and Jacqueline Woodson, is sure to delight the guy (and gals) in your life!
Poetry
Inside Out and Back Again by Thanhha Lai
Inspired by the author's childhood experience as a refugee—fleeing Vietnam after the Fall of Saigon and immigrating to Alabama—this coming-of-age debut novel told in verse has been celebrated for its touching child's-eye-view of family and immigration.
Where the Sidewalk Ends by Shel Silverstein
This classic collection of children's poems ranges from silly, to twisted, to laugh out loud funny with a stop at profound along the way.
Garvey's Choice by Nikki Grimes
Garvey's father has always wanted Garvey to be athletic, but Garvey is interested in astronomy, science fiction, reading—anything but sports. Feeling like a failure, he comforts himself with food. Garvey is kind, funny, smart, a loyal friend, and he is also overweight, teased by bullies, and lonely. But when his only friend encourages him to join the school chorus, Garvey's life changes forever.
— Recommended by Michelle K., Youth Services Librarian, Perkasie Branch