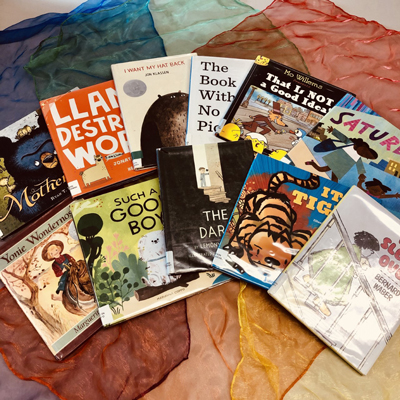 November is National Picture Book Month! As a children's librarian, I love a good picture book, but what makes picture books so important?
As children, picture books are our first form of literature. They are a bonding experience between parents, caregivers, teachers, and children. They allow us that first glimpse into worlds like our own or worlds other than our own. Picture books provide those building blocks to literacy, which become more and more important with each passing day.
Now, picture books aren't just for children. They're for everyone. A good picture book can bring back fond memories or give you a chance to look at something in a different way. Revisiting your favorite picture books, whether as an adult or child or in between, can be an adventure in its own right.
In honor of Picture Book Month, some of the Youth Services Staff have compiled their favorite picture books. See if there are any on the list that you've read and loved!
Miss Shannon
The Dark by Lemony Snicket: This book takes such a scary topic and handles it with such delicacy. The dark in our houses can be scary, but this book shows there is nothing to be afraid of. Not to mention, the author is one of my favorites!
Yonie Wondernose by Marguerite de Angeli: I remember reading this book with my grandmother when I was younger. There was something about the language used and the illustrations that made the story feel so real in my head.
Miss Liz
That is Not a Good Idea! by Mo Willems: That is Not a Good Idea! is one of my favorites to read at storytime because of the plot twist at the end! I also love reading it with different voices at storytime and with my kids.
Ira Sleeps Over by Bernard Waber: I love Ira Sleeps Over because my mom used to read it to my siblings and me as a bedtime story. I also loved bringing it with me if I had a sleepover with my friends or other extended family members. It brings back wonderful memories of those times whenever I read it as an adult.
Miss Kate
The Book with No Pictures by B.J. Novak: The Book with No Pictures is great for kids of all ages. I've read it to my nieces, and I've read it to small storytime groups. I've also read it to outreach visits with 100 children. Nothing breaks the ice like a grown up saying 'I am a robot monkey and my head is made of blueberry pizza!' It's also a blast to read the book in lots of different voices. It's really a classic, and I recommend everyone give it a read.
Miss Sam
I Want My Hat Back by Jon Klassen: Klassen is consistently one of my favorite picture book authors out there right now! I Want My Hat Back is always a great read in storytimes, because that bear just wants his hat back! The set up and delivery of the final joke is done so expertly that it's always a great laugh when it lands—even if it is a little dark!

Llama Destroys the World by Jonathan Stutzman: Llama is a master of many things, but situational awareness isn't one of them! I love this book because it has something for everyone of any age—the Cha-Cha Slide, sandwiches, black holes! There's a sequel now, but nothing beats the original!
Miss Emily
Hello, Lighthouse by Sophie Blackall: My young niece and I were both mesmerized by this beautiful story when we read the book together. She loved noticing details in the illustrations that helped tell the story.
We Are Water Protectors by Carole Lindstrom: When I first picked up this book from our cart of new arrivals this summer, I couldn't stop loudly exclaiming my amazement every single time I turned a page! The lush, gorgeous illustrations by Michaela Goade are incredible and (dare I say it?) Caldecott-worthy and share a powerful message about environmental advocacy with young kids.
Miss Nicole
It's a Tiger by David LaRochelle: This is one of my favorite picture books to read in storytime! The kids love seeing where the tiger is going to appear next and it's a fun, action-packed adventure where we're always wondering if the tiger is going to catch us or not!
Mother Bruce by Ryan T. Higgins: As far as personal favorites go, the "Bruce" picture book series by Ryan T. Higgins is an all time favorite of mine! I get such a kick out of the grumpy Bruce character and all the animals who "bother" him and the different hijinks they get into. These books always make me smile and the illustrations are beautiful as well! If I had to choose a picture book series, I'd choose this one!
Miss Michelle
Such a Good Boy by Marianna Coppo: This offbeat gem is one of my new 2020 favorites! An adorable dog learns to be himself — even if it means being a little different than his owner might expect
Saturday by Oge Mora: Oge Mora's illustrations are gorgeous, and this slice-of-life story about a girl and her mother mentions the library – what more could a librarian ask for? I love this story that proves that even when things don't go as planned, you can still have a splendid day if you spend it with someone you love.
— Shannon C., Youth Services Librarian