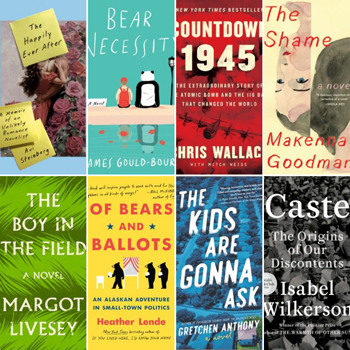 Because of the pandemic, many books that were due to be published last spring had their publication dates pushed back to fall. So many highly-anticipated titles have hit the shelves recently that you might have missed hearing about some other great reads. Our Collection Management Specialist recommends these fiction and nonfiction titles.
FICTION
The Shame by Makenna Goodman
Goodman pens a compelling portrait of a woman under psychological stress. In her debut novel, she gives voice to Alma, a woman who has left the hustle and bustle of the city to live her ideal life as wife of a college professor, mother to two perfect children, caring for her family by growing their own food and raising chickens. She dabbles in painting. She finally has the idyllic Vermont country life she wanted. She hates it. "Yes, I felt invisible. I didn't have anything to show for myself except my kids, and the older they got, the more themselves they became, while I grew more and more servile, adhering always to their changing needs…. I was worried I'd have nothing to say."
In the hours she steals for herself late at night, Alma begins to write. She turns down a large advance from a toy company to write a children's book because she fears that this would mean selling out. Instead, she begins a novel. Her lead character, Celeste, is based on a Brooklyn potter Alma has followed on social media with whom she has become obsessed. The potter gives Alma an insight into the world she so desires. She convinces herself that her obsession is acceptable as research. As with all addicts, she tells herself she can stop checking Celeste's accounts any time she wants. But she doesn't.
Alma is an unreliable narrator even when telling the story herself. The story is told entirely in deep first-person perspective, sinking readers into Alma's small joys and the well of her increasingly dark introspection. Readers will be able to see themselves in her flaws, her good intentions, and the spaces in between.
The Kids Are Gonna Ask by Gretchen Anthony
Bess McClair finds herself pregnant during her senior year at college. She decides to become a single mother and move in with her mother, Maggie. Maggie welcomes her daughter and the twins, Savannah and Thomas. Having recently lost her beloved husband, she is grateful to have family with her. Maggie never pressures Bess to reveal the name of the father of the twins.
When the twins are 13, Bess dies suddenly. At 17 and in high school, the teens run a podcast dealing with their lives. On one episode Thomas mentions that he wishes he could meet his father. This podcast is heard by Sam Tamblin, owner of Guava Media. He is immediately intrigued by their quest. Once he gets involved unexpected things begin to happen. As the twins work with Tamblin, their audience grows, and the show attracts national attention. It prompts both positive and negative reactions from individuals and activist groups, overwhelming the twins. The McClairs strike back at the heart of the firestorm in clever, hilarious ways.
This is a slow moving story told sequentially from the points of view of Maggie, Savannah, Thomas and Jack, a man in Georgia who could be the twin's father. Using third person narrative, podcast and voicemail transcripts, emails, text messages, and more, Anthony constructs a portrait of the delicate and difficult process of adolescence. Thomas and Savannah are at heart children looking for answers about their parents, and their vulnerability is front and center throughout the story.
Bear Necessity by James Gould-Bourn
In this delightful story, a grieving father and his young son, who refuses to speak, learn to communicate with each other through a dancing panda bear. Gould-Bourn's debut novel is a charming, deeply comforting story about a father and son drowning in grief.
Londoner Danny Malooley lost his wife more than a year ago in a tragic accident. Since the loss of his mother, his son, Will, has not spoken a word to anyone. Danny's bad luck continues when he loses his job and his threatening landlord comes calling about the back rent.
Depressed and desperate, while ambling through the park one day, Danny notices street performers entertaining the passersby and raking in the money. Inspiration strikes! Barreling through a host of complications, he secures an old panda suit and sets off to earn some money covertly. He is supported in his quest to become successful by a mouthy pole dancer, his friend Ivan, and several other memorable, well-drawn characters.
Will continues to struggle with his lingering silence and being bullied at school. A caring and astute teacher reaches out to Will. He shares a similar story from his youth and tells Will that talking with a stuffed animal helped him. This exchange is recalled by Will when he is harassed at the playground by older boys and is rescued by a shabby, goofy looking dancing panda. Additionally, the cover of this book haunting, and after reading the book, it is especially poignant.
The Boy in the Field by Margot Livesey
Livesey serves up a distinctive blend of literary fiction and psychological thriller. In 1999 a single discovery touches three siblings' lives in surprising ways. Three British teenage siblings on their way home from school find a badly injured boy in a field. Significantly, the boy whispers one word, but all three children hear it differently. They rush home after the paramedics arrive to take the injured boy away, realizing that "something enormous" has happened.
Indeed it has. The event brings their statuses in the family into stark relief. The teenage siblings are very close and loving but very different from each other. Matthew, the eldest, is thoughtful and hopes to become a detective. He becomes obsessed with solving the mystery of the boy in the field. Zoe has 'a gift for finding things'–birds' nests, her mother's calculator, a secret. She is drawn to ways in which people come together and apart. Duncan, the youngest, is sensitive and a gifted painter. Finding the boy will start him toward a discovery about his own life that might be destructive.
NONFICTION
Caste: The Origins of Our Discontents by Isabel Wilkerson
"As we go about our daily lives, caste is the wordless usher in a darkened theater, flashlight cast down in the aisles, guiding us to our assigned seats for a performance. The hierarchy of caste is not about feelings or morality. It is about power…which groups have it and which do not."
Beyond race, class, or other factors, there is a powerful caste system that influences people's lives, and behavior, and the nation's fate. In this work of social history, Wilkerson explains how a rigid social order, or caste, is about power.
The caste system in this country began with slavery in 1619. Wilkerson details how caste would become the cornerstone of U.S. social, political, and economic policy with "…whites being dominate, African Americas subordinate, and Native Americans conquered."
Powerful chapters parallel three systems—slavery in the American South, the reign of Nazi Germany, and hierarchies in India—in order to explore how each relied on control, including dehumanization, endogamy, and purity via immigration laws. Wilkerson reminds us that, despite the passage of civil rights legislation, caste endures in infrastructures and institutions. This examination of caste and its consequences on every aspect of culture is unusual, eye-opening, and of life-or-death importance.
Countdown 1945: The Extraordinary Story of the Atomic Bomb and The 116 Days That Changed the World by Chris Wallace with Mitch Weiss
We've all heard about it in school, movies, and novels, but the true story is much more exciting than what was taught in history class. Fox News Sunday host Wallace's book contains no surprises, but it is a compelling and highly readable account of one of the most fateful decisions in American history.
America and its European allies had defeated the Nazis and Fascists and hundreds of thousands of soldiers and civilians lay dead or wounded from the conflict. But the war still raged on the seas and in the air around Japan. Roosevelt had just returned from Yalta, but no decision had been made about what to do with Japan–a land invasion versus sea or air. A new, top-secret untried, lethal weapon raised alarm with the leaders.
Truman was fewer than four months into his Vice Presidency when Roosevelt died. Truman was shaken by the news, but it was a cryptic message from Secretary of War Henry Stimson that would define the rest of that year–and the war. Stimson informed Truman about Roosevelt's top secret project to build a nuclear weapon. He did not sugar coat the message: modern civilization might be completely destroyed.
Using eyewitness accounts from Allied leaders, U.S. bomber pilots, and scientists, Wallace delves into the private lives of the men and women, ordinary people as well as the scientists and engineers, who created the atom bomb, tested it, and armed it to detonate over two major Japanese cities. Code named Little Boy and Fat Man, the atom bombs ended the war and forever changed the world.
The Happily Ever After: A Memoir of an Unlikely Romance Novelist by Avi Steinberg
Following his divorce, Avi Steinberg begins writing romance novels. He hopes to learn how to write a commercially successful book and perhaps more importantly, to solve his own romantic challenges. Steinberg's journey may serve as an eye-opener for readers who consider romance novels trashy. In his quest he hangs out with readers, authors, publishers, cover models, attends conferences, joins a writing group, participates in retreats, and even attends a séance outside a cemetery. He eventually lands a multi-book contract under the pen name Dana Becker.
Despite the romance phobia drummed into him as a "brain-washed lit major," he dives wholeheartedly into "the vast empire of Romancelandia." Part personal memoir, part travelogue, and part literary criticism, Steinberg questions the societal tendency to look down on romance novels and the people who read them, examines romance's domination of the book market, and reconsiders the classics. He spends time exploring the numerous subgenres of the romance novel and makes observations about gender roles and identities not only in romance novels but throughout society.
Steinberg's personal story will suit any reader curious about the book industry or who appreciates quirky personalities. Aspiring writers may find tips here to break into being published, but this book isn't primarily a how-to but rather a compelling narrative of Steinberg's journey to find love and to write post-divorce. Spoiler: the book ends with a HEA (romance speak for happily ever after)!
Of Bears and Ballots: An Alaskan Adventure In Small-Town Politics by Heather Lende
Lende, a former obituary writer and author of "Find the Good," welcomes us back to Haines, Alaska, a town of about 2,500 people in the southern panhandle of Alaska, accessible to the mainland only by boat or plane. In 2016 Lende decided to run for the local assembly. She was not alone. According to the Los Angeles Times, since 2016 there has been a huge spike in the number of women running for office at all levels of government.
Lende spent only $1,000 on her campaign and won with 501 votes, becoming one of the two new members of the six-person assembly. Of Bears and Ballots reads like a series of stories themed around her time in the assembly. Her campaign, Election Day, everyday decisions, small town scandals, recall elections, and personal victories are all well documented in her friendly and conversational style. Lende is just a regular person who does the best she can.
Of Bears and Ballots is an interesting and optimistic book about local politics in America. Her story offers some ideas on how people might work together and move forward. She shows by example that it's not up to someone else to save the world. Everyday people must work together to make change possible.
–Regina S., Collection Management Specialist