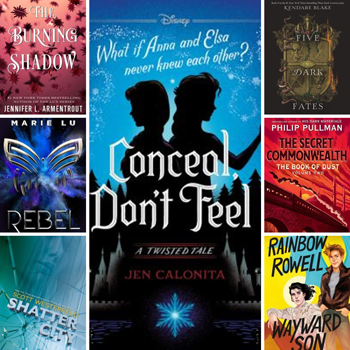 New Young Adult bestselling sci-fi/fantasy sequels hitting the shelves this fall include a Frozen world re-imagined where Elsa never knew Anna, a hero's adventure, an attack of a fatal virus, a dystopian series finale, and much more! Check out these books from your library or digitally on the cloudLibrary app.
The Burning Shadow by Jennifer L. Armentrout
Armentrout returns to the world of the Lux in this steamy, shocking second installment of the Origin series. When Evelyn Dasher crossed paths with Luc, she was thrown headfirst into the world of the Lux—only to discover that she was already far more involved in their world than she ever suspected. Now, a new threat looms, reports of a flu-like, fatal virus that the government insists is being spread by Luxen. This horrifying illness that changes whoever it touches is spreading panic across a country already at its breaking point.
Conceal Don't Feel by Jen Calonita
What if Anna and Elsa never knew each other? Calonita brings us another YA fractured fairy tale in the Twisted Tale series, this time focusing on the characters from Frozen. Determined to fill the void she has always felt, Elsa must take a harrowing journey across her icy kingdom to undo a terrible curse and find the missing Princess of Arendelle, her sister Anna.
Five Dark Fates by Kendare Blake
In this conclusion to the Three Dark Crowns series, an all-out war is brewing. Three sisters will rise to fight as the secrets of Fennbirn's history are laid bare. Allegiances will shift. Bonds will be tested. But the fate of the island lies in the hands of its queens.
Rebel by Marie Lu
With unmatched suspense and her signature cinematic storytelling, Lu plunges readers back into the unforgettable world of Legend for a truly grand finale. As brothers Day and Eden struggle to accept who they've each become since their time in the Republic, a new danger creeps into the distance that's grown between them. Eden soon finds himself drawn so far into Ross City's dark side, and even his legendary brother can't save him. At least not on his own.
The Secret Commonwealth by Philip Pullman
Return to the parallel world of His Dark Materials in this second volume of Pullman's new bestselling masterwork The Book of Dust, and discover what comes next for Lyra. His Dark Materials book-to-screen adaption will premiere on HBO on November 4.
Shatter City Scott Westerfeld
Westerfeld brings us the highly awaited sequel to Impostors. When the world sees Frey, they think they see her twin sister Rafi. Frey was raised to be Rafi's double, and now she's taken on the role… without anyone else knowing. Her goal? To destroy the forces that created her. As the city comes under a catastrophic attack, Frey must leave the shadows and enter the chaos of warfare — because there is no other way for her to find her missing sister and have her revenge against her murderous father.
Wayward Son by Rainbow Rowell
Simon Snow is back in Rowell's sequel to Carry On. Simon did everything he was supposed to do. He beat the villain. He won the war. He even fell in love. Now comes the good part, right? With Wayward Son, Rowell has written a book for everyone who ever wondered what happened to the Chosen One after he saved the day. A book for everyone who was ever more curious about the second kiss than the first. Simon Snow's hero's journey might be over – but his life has just begun.
— Recommended by Kathleen L., Collection Management Librarian