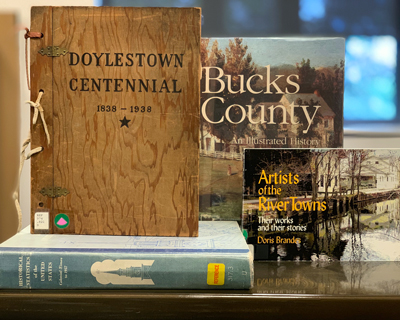 Have you ever wondered about the history of your local community? Why not check out your local library? The Bucks County Free Library has hundreds of items in its Local History collection that can help you learn about everything from Bucks County artists to who used to live in your neighborhood. We recently updated our catalog records to help library users find these unique materials, and here are a few great titles we discovered:
Doylestown Centennial, 1838 – 1938
Published to commemorate the Doylestown Centennial in 1938, this commemorative program includes a narrative history of Doylestown's first 100 years, illustrations, and booster ads that give a fascinating snapshot of the community in the 1930s.
Old Stonework in Bucks County by Willis M. Rivinus
A brief, illustrated tour of different styles of stonework in buildings all over the county. Particularly delightful is the Thompson-Neely House in Washington Crossing Park, which was built in three stages and three different styles of stonework. Read this book in a single sitting and see how many examples you walk or drive past every day!
Riegelsville, PA: Its Buildings and Inhabitants by Kathleen K. Cook
Kathleen K. Cook offers a walking tour in book form, taking the reader street by street through Riegelsville and offering a brief history and architectural overview of noteworthy buildings as well as information about their early residents from census records and other historical documents.
We want to share our rich history with everyone, so any library user may request access to items in this collection. In order to preserve these irreplaceable – and often fragile – materials for future generations, we do not permit items marked "In Library Use Only" to be checked out. However, you can still place a hold to have them sent to your local library, where you can use them on-site. If you would like to see a list of all the titles in this collection, search the catalog for "BCFL local history collection."
— Recommended by Jennifer M., Collection Management Coordinator